We all have email accounts. Many of us also chat with friends via Facebook, and companies like Netflix allow us to view movies on our TV screens at a moment's notice. So it is common sense to invest in wireless suppliers. Two companies caught my attention, both giving buy signals recently on weekly charts.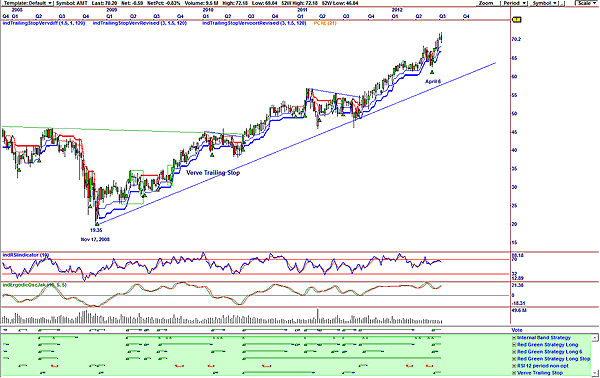 FIGURE 1: AMERICAN TOWER, WEEKLY
Graphic provided by: OmniTrader.
Figure 1 is a weekly chart of American Tower (AMT). The company is a leading owner and operator of more than 47,000 communications sites for the wireless and broadcast industries. The chart shows how the price moved from a low of $19.35 in November 17, 2008, to its present price of $69.91. On April 6, 2012, the vote line, a summation of the six strategies listed in green, gave a fresh buy signal. The relative strength index (RSI) is suggesting a correction, giving us an opportunity to buy at present levels. The ergodic oscillator also appears to be turning into a sell signal.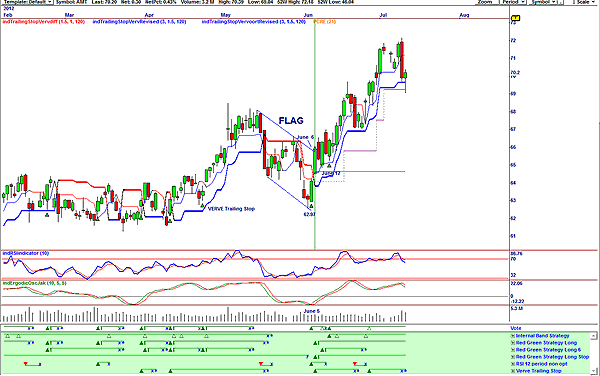 FIGURE 2: AMERICAN TOWER, DAILY
Graphic provided by: OmniTrader.
The daily chart in Figure 2 shows the flag that triggered the buy signal of June 6 at $62.97. On June 7, the price broke out of the upper resistance line of the flag confirming the buy signal given by the vote line on June 5. The vote line confirmed this signal again on June 12. At the moment, the price appears to be testing the Verve trailing stop. The RSI has given a sell signal confirmed by the ergodic oscillator. The vote line however is still positive.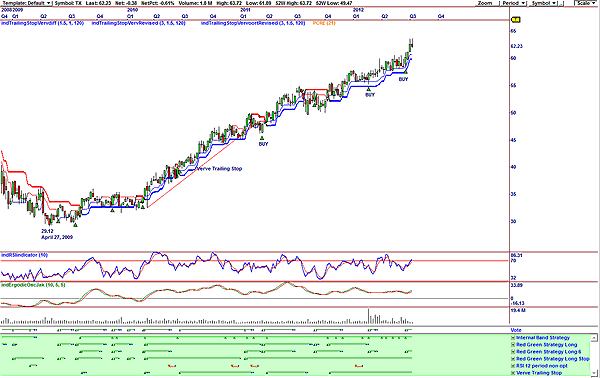 FIGURE 3: TELUS, WEEKLY
Graphic provided by: OmniTrader.
In the Canadian market, TELUS (T-T) made a low of $29.12 on April 27, 2009, and then moved up strongly to its present high of $62.23. Yes, the share price was stopped out occasionally by the Verve trailing stop, but the vote line soon after gave a buy signal. The RSI and ergodic oscillator have not given sell signals but they are at overbought levels, suggesting possible weakness ahead. See Figure 3.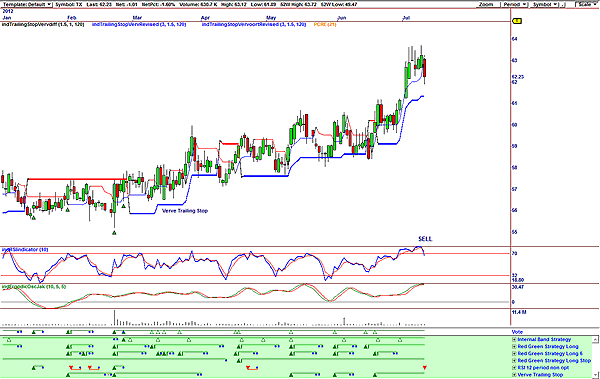 FIGURE 4: TELUS, DAILY
Graphic provided by: OmniTrader.
The daily chart is showing that the RSI has given a sell signal, but the vote line is still positive, although the RSI strategy 12-period has shown a sell. The ergodic oscillator has also given a sell. See Figure 4.

These are two shares, one on the US market and one on the Canadian market, that I would place on my watchlist for a future buy. Both have grown strongly with the growth of the wireless market, and the future suggests even more strength ahead.