The iShares oil equipment/services exchange traded fund (IEZ) made a significant cycle high on February 24, 2012, peaking out at $60.25 before commencing on a four-month-long decline, ultimately bottoming out at $42.08 in late June 2012. Given that the stocks in this ETF are all from the volatile oil services industry group, such powerful trending moves aren't all that unusual and are in many cases followed by a tradable reversal or relief rally.

In the current case of IEZ, it looks as if a minor relief bounce has already occurred, with this ETF now setting up for even more powerful bullish follow-through. Here's a closer look now (Figures 1 and 2).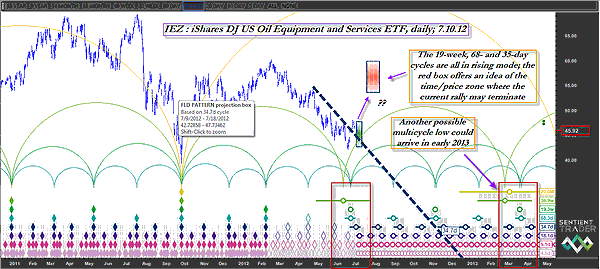 FIGURE 1: IEZ, DAILY. A major multicycle low may be near in IEZ.
Graphic provided by: Sentient Trader.
On the daily Sentient Trader cycles chart (Figure 1), we see evidence of the last two confirmed major, multicycle lows in IEZ, January 11, 2011, and October 4, 2011. The stacked diamonds show where all of the cycles finally bottomed out in close sequence, thus setting up guidance for subsequent cycle timing events.

While the software has not yet fully confirmed the June 26, 2012, multicycle low (as is the case once the circles change to diamonds), it wouldn't take much more of a rise to see that confirmation take place. As in all cases of reversals, you never know until after the fact if a certain swing low is the ultimate low for an extended move or just another stair-step on the way lower (higher).

However, unlike certain other types of technical analysis tools, accurate price cycle analysis has the advantage of being a timely and effective leading indicator when used judiciously. Currently, the 19.3-week, 68.3-day, and 34.7-day cycles are all in a strongly rising mode, and with IEZ's price now above the dashed blue 40-day valid trendline (VTL), the probabilities of further upside potential are very good.

Note also that IEZ's latest daily price bar is very near to the green cycle low time/price projection box; if this ETF can close higher than Tuesday's high of $47.32, then this is one energy sector ETF that you definitely want to get positioned into on the long side.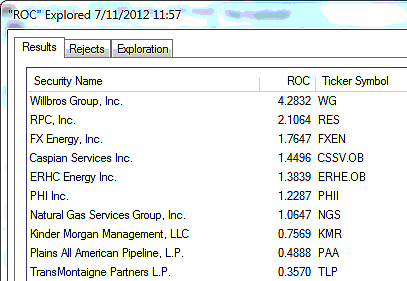 FIGURE 2: RELATIVE STRENGTH. Some smaller to mid-size oil services stocks with strong 13-week relative strength versus the .SPX.
Graphic provided by: MetaStock.
Graphic provided by: MetaStock Explorer.
Should IEZ catch a strong bid as anticipated, the red time/price projection zone suggests that the current rally may run as high as 59.91 by August 15, 2012 -- a potential gain of more than 28% from Tuesday's closing price.

Here are some of the individual oil services stocks that you may also want to track for potential long entry setups this week:

-Halliburton (HAL)
-Schlumberger (SLB)
-Baker Hughes (BHI)
-Atwood Oceanics (ATW)
-Transocean (RIG)

Pardon the pun here, but you probably already know the drill:

1. Locate the oil services stocks with the highest 13-week relative strength against IEX and the .SPX (Figure 2)

2. Determine which of those have positive projected earnings growth rates for the next six to 12 months

3. From these remaining candidates, look for those with attractive chart patterns; perhaps they are rising from a double bottom or have an uptrend in place (higher swing highs and higher swing lows) or have burst higher from a well-defined consolidation zone (rectangles, wedges or pennants, and so forth).

Since you already know that there are powerful price cycles at work in IEZ, you already have a powerful (albeit imperfect) technical dynamic working for you before you even put one of these kinds of trades on, and that's what you always want whenever you trade. The odds are stacked in your favor, so that even if the trade doesn't work out, your losses will likely be a lot less than they would have been had you gone into the market, armed only with a simple stochastics indicator and a hot tip from your colleagues at the company water cooler.