The Standard & Poor's 100 (.OEX) pulled back a teensy bit during yesterday's trading session, closing down by 0.49% (closing at 625.55). Although the 61-day and 16-week price cycles are still in a decidedly bullish mode, the 61-day cycle has peaked and is now starting to turn lower along with the 32-day and 21-day cycles. The 10-day cycle is also peaking, so expect a few days of modest selling to commence — just enough to fool some traders into believing they have a valid shorting situation; then, the higher-degree cycles should start to drag prices higher starting toward the end of next week if not sooner.

Pullbacks toward 618.00 in the .OEX may prove to be an excellent reentry point for those who may have missed the first part of the June 2012 rally. Figure 1 is a look at the strongest four-week relative strength (RS) performers in the .OEX. Sprint Nextel (S) and NewsCorp. (NWSA) still remain the strongest performers, along with several banking issues. Merck (MRK) and Amgen (AMGN) are both in the list now, suggesting some rotation into the pharma/biotech stock industry groups.

There is little change to report in this particular RS list, however. Of major interest is the fact that there is only one financial sector stock listed now, a major shift from only a week ago; Regions Financial (RF) is now the only top-10 RS performer from that sector, indicating a loss of upward momentum for the financial issues as a whole. The rest of the top-10 RS list includes a variety of stocks from diverse groups and/or sectors — media, materials, tech, and transportation, including Norfolk Southern (NSC).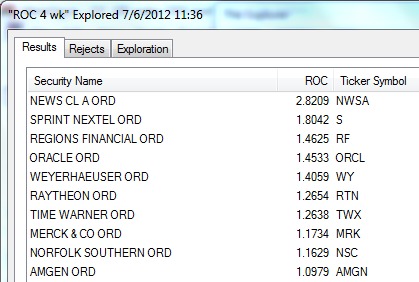 FIGURE 1: STRONGEST OEX COMPONENTS. Here are the 10 strongest S&P 100 (.OEX) components over the past month, as of Thursday, July 5, 2012.
Graphic provided by: MetaStock.
Graphic provided by: MetaStock Explorer.
Figure 2 is a look at the weakest four-week relative strength performers in the .OEX. Nike (NKE) shares are still very weak in terms of RS, as is Sara Lee (SLE), Ford Motor (F), Hewlett-Packard (HPQ), and Walgreen's (WAG). Further confirming the rotation out of financials is the new appearance of megacap banker Citigroup (C) in the top-10 weak RS ranking list. Remember that financial sector stocks make up the largest single sector in both the S&P 100 (.OEX) and S&P 500 (.SPX) indexes and that significant sector rotation in and out of this key market sector is always something that you want to stay abreast of.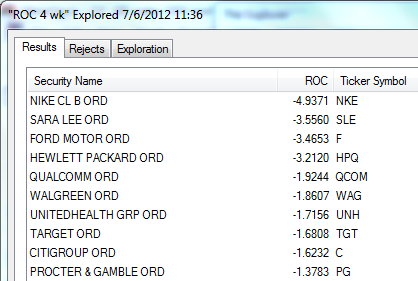 FIGURE 2: WEAKEST OEX COMPONENTS. Here are the 10 weakest S&P 100 (.OEX) components over the past month, as of Thursday, July 5, 2012.
Graphic provided by: MetaStock.
Graphic provided by: MetaStock Explorer.
Figure 3 shows the S&P 100 components giving RMO swing sell signals. A mere 1% of the .OEX components issued new RMO swing sell signals yesterday, and there were no new RMO buy signals at all. This is also another confirmation that the .OEX has made a short-term cycle high and that there should be a minor pullback over the next two to five trading sessions before the higher-degree cycles in the index start moving the prices of most large-cap stocks higher again. Home Depot (HD) was the single .OEX component to fire an RMO swing sell signal, and a drop below 51.31 triggers a short entry.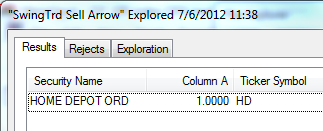 FIGURE 3: SWING SELL SIGNALS. Here are the S&P 100 (.OEX) components issuing RMO swing sell signals at the close of trading on Thursday, July 5, 2012. During this session, just 1% of all .OEX components fired sell signals, with no new buy signals issued.
Graphic provided by: MetaStock.
Graphic provided by: Metastock's Explorer.
It's unusual, but there were no buy or sell signals for any of the ETFs that I track here in PENDY'S PICKS on a daily basis. Again, this also lends credibility to the cyclical interpretation: Upward momentum in the markets has stalled as the shorter-term cycles have begun to move lower. Expect a pullback of a minor degree in the .OEX until the latter part of next week.


The logical target price of 644.37 for the two-phase rally that began in the .OEX in early June 2012 remains valid, despite the pullback that is now projected for the US stock indexes in the next few trading sessions. Expect the 618.00 to offer the first major opportunity for a bounce higher, with 611.00 being the "make or break" area as far as medium-term cyclical action is concerned. If 611.00 fails to hold on a near-term pullback, then a larger correction is likely during the month of July.