Shares of Dean Foods might be worth watching as the Great Recession continues to play out. In fact, the stock may be telegraphing astute investors and money managers that its shares could be a relatively safe place to park a portion of their equity market funds. See Figures 1 and 2.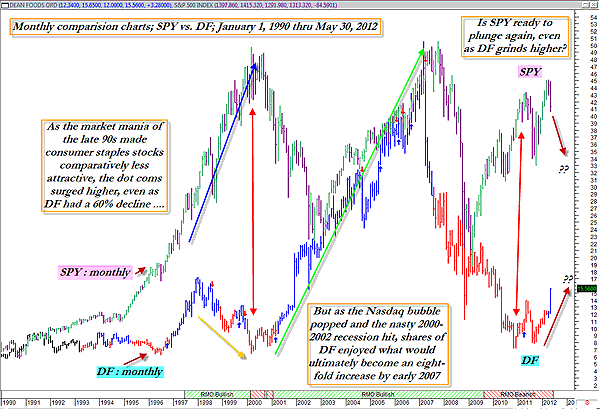 FIGURE 1: DF, MONTHLY. Will the current divergent chart patterns in .SPX and DF resolve in a similar manner as in 2003-07? Is your portfolio properly diversified if the .SPX is due to go lower in the next year or two?
Graphic provided by: MetaStock.
Graphic provided by: RMO indicators from MetaStock 11.
In tough economic times, people still need to eat, and Dean Foods (DF) certainly manufactures and distributes its fair share of milk, soy/almond milk, ice cream, eggs, fruit juice, iced tea, and other foodstuffs.

With its stock hitting a new 52-week high on May 30, 2012 -- after rising steadily from a major low made back in December 2010 (at 7.12 per share) -- Dean Foods has now begun to manifest a long-term bullish divergence from the monthly chart pattern in the Standard & Poor's 500 (.SPX, SPY). This is due no doubt to the bearish long-term price cycles in the .SPX, the economic woes in Europe, and the unfolding Great US Recession in the US, not to mention the desire of nervous long-term investors to plow funds into stocks that are perceived to be relative stores of value in a crazy global economic environment.

Since food along with water is unofficially classified as a member of the "buy or die" (that is, you need food and water, no matter what other luxuries you may need to forgo in a major recession/depression) stock industry group, those seeking safety in shares of DF may actually be very wise, risk-averse investors, after all.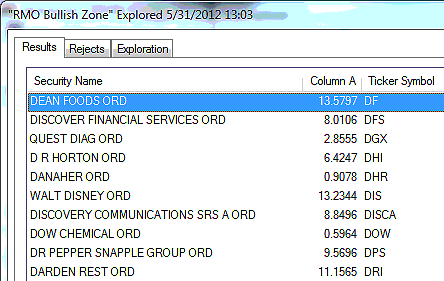 FIGURE 1: LARGE-CAP STOCKS. Here are 10 large-cap stocks that are in the RMO bullish zone, based on the RMO found in the RMO trading system in MetaStock 11.
Graphic provided by: MetaStock.
Graphic provided by: MetaStock Explorer.
Looking into the past, note how DF fell out of favor in the latter half of the 1990s as the NASDAQ/Internet/dotcom craze became the focus of many investors and traders, leaving DF to falter. The stock dropped by more than 60% between January 1998 and March 2000, even as the .SPX soared ever higher, finally peaking in April 2000.

Note the vertical red arrow that depicts the topping of the .SPX at the same general time that DF made the major March 2000 low. The .SPX dropped for nearly three more years even as DF proceeded to tack on gains of more than 250% by March 2003 (when the .SPX made its last major low). At that point, both DF and the .SPX joined forces, marching higher for the next four years. Clearly, long-term investors viewed DF as a relatively safe zone of the stock market during those dark days of 2000-03, and they had the gains to prove it.

Fast forward to November 2010. The .SPX made a significant monthly high, even as DF made a major monthly low (see the vertical red arrow) at around the same general time. The .SPX subsequently got hit hard with last summer's "euro zone smash" and then recovered to make a final push up to make a post-crash high in April 2012.

Meanwhile, DF forged a double bottom on its own monthly chart and then proceeded to launch into the sharp rally that it is still enjoying even today. Unless things are different this time, it appears that the same pattern is unfolding as we witnessed in April 2000 -- the .SPX is now enmeshed in a major cyclical downtrend that may be destined to go much lower even at the same time that DF may be destined to rise steadily as the recession/depression stagnates or even worsens.

Again, remember that DF is in the "buy or die" stock industry group and that there will always be a reasonably steady, if not increasing, demand for the goods and services that they provide to customers and retailers.


Playing DF is fairly simple, especially if you also view the stock as a low-risk safety hedge during times of stock market decline. You could buy a near-term covered call (with four to six weeks of time value for the call option(s)) and use a nine-week exponential moving average (based on the weekly close of DF) as the trade management stop-loss. Then just keep selling covered calls in DF at each option expiration cycle for as long as the stock manages to close above its nine-week EMA.

Using this kind of trailing stop can help give the covered call more room to breathe than a stock-only trade, and it will always help keep you in line with the dominant medium-term trend of the stock as well.

This is one simple way to consider playing DF; you may very well have your own way to do it. Regardless of the method chosen, never risk more than 1% to 2% of your account equity on any given trade, no matter how bullish you may be on any given trade setup.