After peaking in 2005, shares of DR Horton, Inc. (DHI), began a 46-month long decline that eventually wiped out more than 91% of the stock's value. While the outlook for the stock in late 2008 was rather grim, in 2012 we find the stock in the midst of a substantial, bullish rally, with the stock up by more than 100% since early October 2011. Here's a look now at DHI's current technical state (Figures 1 and 2).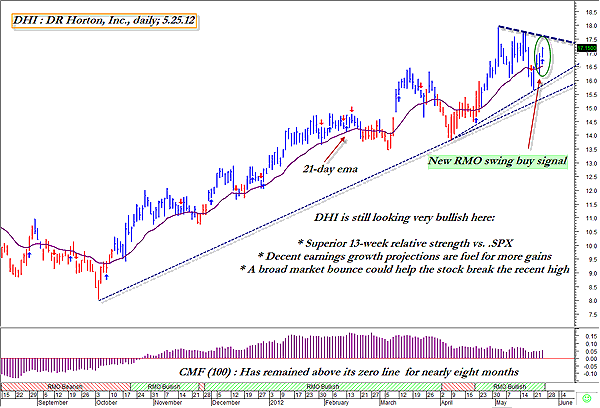 FIGURE 1: DHI, DAILY. Already up by more than 100% since October 4, 2012, shares of DR Horton, Inc., are also outperforming the .SPX over the past calendar quarter. Long-term money flow remains persistently strong.
Graphic provided by: MetaStock.
Graphic provided by: RMO indicators from MetaStock 11.
All it takes is one glance to realize that DHI is in a mega-multimonth bullish trend, one that has actually tacked on gains of more than 110% in a seven-month period (October 4, 2011 to May 2, 2012). Long-term money flow (based on the 100-day Chaikin money flow histogram [CMF][100]) is excellent, having remained above its zero line since late October 2011. This should help fuel continued interest in this stock, particularly among institutional investors who tend to seek out stocks with above-average earnings growth potential that are also outperforming the broad markets over the past calendar quarter.

DHI certainly qualifies on both counts, and any new break above $17.21 should lead to another attempt on the early May 2012 high of $17.91, especially if the broad markets (.SPX, .NDX, and .RUT) can all catch a bid soon and continue their recent bounce higher after the recent round of heavy selling. While shorter-term cycles seem to imply more of a bounce in those indexes over the next week or two, the longer cycles suggest more downside into early to mid-July 2012.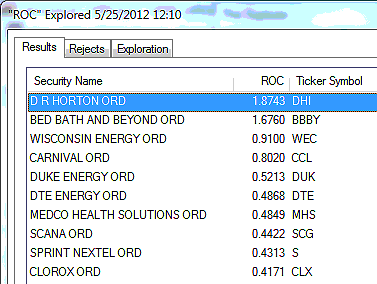 FIGURE 2: ROC RESULTS. The top 10 large-cap stocks firing new RMO swing buy signals for May 24, 2012; all 10 feature strong comparative relative strength rankings versus the .SPX.
Graphic provided by: MetaStock.
Graphic provided by: MetaStock Explorer.
There are two basic ways to play this new long setup in DHI:

A. Go the covered-call route, selling a modestly in-the-money (ITM), near-term call option against every 100 shares of stock you purchase. Stocks with strong long- and near-term bullish momentum are ideal candidates for covered-call trades, especially when they are outperforming the major stock indexes by a wide margin.

B. Go the stock-only route and buy on a break above $17.20, running a two-bar trailing stop of the daily lows as your trade management tool. Again, you may wish to book partial profits near $17.75/17.91, should the stock rise that high before a stopout. Then you could simply let the rest of the position run, using that same trailing stop for the balance of the trade.

Whichever way you choose to play DHI, make sure you risk no more than 2% of your account's equity on the trade, no matter how bullish you may be on DHI or any other homebuilder stock. It's always best to play it safe, rather than make a major mistake by having too large of a position on if the trade should move sharply against you.