PRINT THIS ARTICLE
STRATEGIES
---
ALXN, The New Kid On The S&P 500 Block
05/30/12 02:14:45 PM
---
by Billy Williams
---
ALXN has been added to the Standard & Poor's 500, and it has arrived as the new kid on the block, along with a lot of profit potential.
Security:
ALXN
Position:
Buy
A news leak from Greece threw cold water on the bull's attempts to push the market higher as a story broke that the country was making plans to exit the euro. Already under strain, the market gave up its gains in a late-day slump, leaving the market slightly lower than the previous day's close in some of the major indexes.

Some good news, however, were reports from the National Association of Realtors that stated existing home sales were up in April, the highest numbers in two years. In addition, Alexion Pharmaceuticals (ALXN) was admitted to the S&P 500 at the close of May 24. See Figure 1.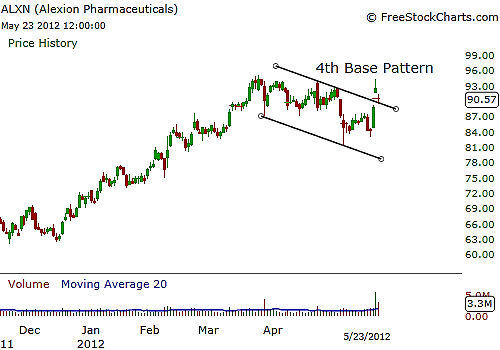 FIGURE 1: ALXN. ALXN will be added to the S&P 500 at the end of the May 24th close. This will result in a lot of institutional investors and mutual funds taking new positions in ALXN to rebalance their investment portfolios.
Graphic provided by: www.freestockcharts.com.
ALXN has had six impressive quarters of increasing earnings, which earned it a spot on the S&P 500 and it is currently building a new price base. But this base pattern is the fourth in an impressive run on the part of ALXN, but fourth-base patterns are notoriously wobbly. Worse, this base pattern is forming in a market that is currently undergoing a correction and should be avoided on the intermediate- to long-term time frame but has potential in the short term.

It is recommended using call options on ALXN while also looking for entries on the 60-minute time frame, as many major funds will rebalance their holdings for the adding of ALXN to the index. Mutual funds, for example, particularly index funds that track the major indexes like the S&P 500, will have to comply with the bylaws of their fund's charters and reallocate investments in order to track the S&P's performance.

This influx of investment into ALXN will likely result in a spike in price.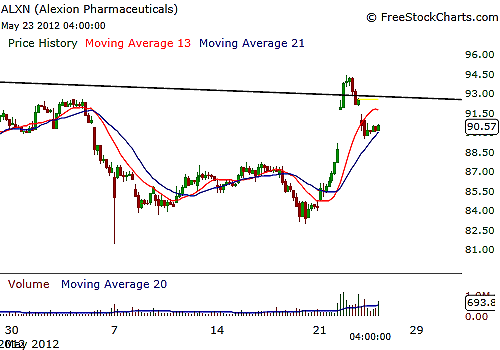 FIGURE 2: ALXN. Using the 13 and 21 SMAs, you can time your trades to capture some quick profits over the next one to three days using stock or call options.
Graphic provided by: www.freestockcharts.com.
Using a combination of moving averages like the 13-day and 21-day simple moving average (SMA) can help you spot when price is on the move and trading upward. Be sure to measure volume as the Friday's trading day moves forward and institutional traders begin to enter the market and phase into a new position in ALXN. See Figure 2.

You can use stocks on a daytrading basis or hold a position for one to three days, but you should seriously consider using options as they will offer superior leverage and limit risk to the cost of the premium used to purchase the option initially. Again, you should think of holding the option position for one to three days or when you achieve a 3-to-1 risk/reward ratio, whichever comes first.



Looking for new additions or subtractions to an index can be a bankable method of trading that can be used as a standalone method in and of itself. You do, however, need to have a risk and profit-taking plan worked out ahead of time in order to execute effectively if the market becomes volatile.


---
Billy Williams
Billy Williams has been trading the markets for 27 years, specializing in momentum trading with stocks and options.
Company:
StockOptionSystem.com
E-mail address:
stockoptionsystem.com@gmail.com

Traders' Resource Links

StockOptionSystem.com has not added any product or service information to TRADERS' RESOURCE.
---
Click here for more information about our publications!
PRINT THIS ARTICLE