Sector fund investing isn't as popular now as it was in the 1980s and 1990s, mostly because of the proliferation of exchange traded funds (ETFs) since the first one (SPY) was introduced in 1993. Sector funds can typically only be bought or sold once a day, based on the net asset value (NAV) of the fund at the close of the trading day, whereas ETFs can be freely traded all day, long or short, thus allowing added flexibility to a sector or industry group trader's particular trading style.

That said, for longer-term investors, sector funds can still be a valuable tool for traders/investors who seek to latch onto major trending moves, hoping to ride such trends for as long as possible. Here's a look now at a sector fund that has increased in value by more than 200% over the past 41 months. See Figure 1.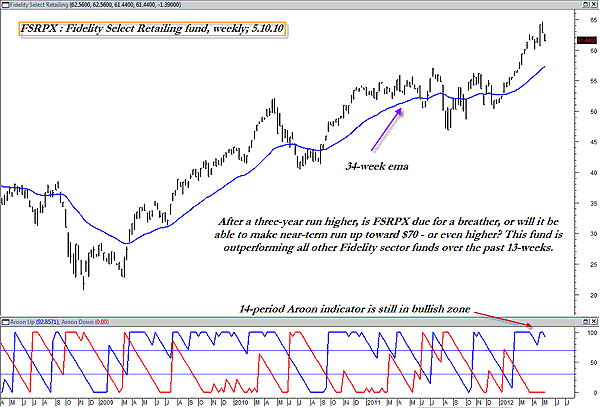 FIGURE 1: FSRPX, WEEKLY. Up by more than 200% since November 2008, shares of FSRPX are still in bullish mode. Will the current pullback lead to a new buying opportunity?
Graphic provided by: MetaStock.
It's kind of surprising to see this kind of performance from a market sector that we would, at first glance, believe to be intrinsically linked to the level of employment in the US (Figure 2). After all, the unemployment rate has averaged nearly 8% to 9% since late 2008, with some sources claiming that the true figure is nearly double that.

So, how can the typical retailing stock -- think names like AutoZone (AZN), Aaron's (AAN), Best Buy (BBY), and Family Dollar Stores (FDO) --manage to steadily increase in value during the Great Recession of 2007-12 (and counting)?

Here are a few ways that retailers have continued to prosper, even in tough economic times:

1. Reduction of workforce size -- getting rid of deadwood through layoffs and attrition, in addition to employing more automation and outsourcing.

2. Slashing company benefits and requiring workers to pay more for their health-care plan, if one is offered at all.

3. Aggressive bargaining with suppliers -- who are also trying to keep their own doors open for business -- is another way that retailers have been able to hang in there and even prosper.

4. Making maximum use of Internet advertising and social networking; think of the revolution that Facebook has caused, with businesses striving for maximum numbers of "like us" votes there.




FIGURE 2: SECTOR FUNDS. Five of the strongest sector funds vs. the .SPX over the last 13 weeks.
Graphic provided by: MetaStock.
Graphic provided by: MetaStock Explorer.
At any rate, for whatever underlying reasons, FSRPX shareholders have done very well, particularly if they are long-term buy & hold types. Technically, the fund is still in bullish mode, still trading above its upsloping 34-period exponential moving average (EMA) even as its 14-week Aroon indicator is telling us that the fund is still in bullish mode.

While it's likely that last month's high in the .SPX will be the high point of the year for many months to come, the fact is that you have to go by the relative strength rankings and seek out the stocks in the strongest sectors, no matter what the shape of the economy is, particularly if you are a long-only investor.

Currently, the top four strongest sector funds after FSRPX are these:

Fidelity Select Leisure (FDLSX)
Fidelity Select Construction and Housing (FSHOX)
Fidelity Select Biotechnology (FBIOX)
Fidelity Select Consumer Discretionary (FSCPX)

Did you note that the leisure and construction and housing sector funds are doing very well compared to the .SPX? Might this actually be pointing to a recovery in the economy sooner rather than later? After all, if the housing stocks are coming back strong and if people are spending leisure funds on things like vacations, boats, and RVs, perhaps the uber-doom and gloom mindset of John Q. Public over the past four and a half years of economic carnage in the US might actually be lifting, replaced by a more optimistic view of the future. See Figure 3.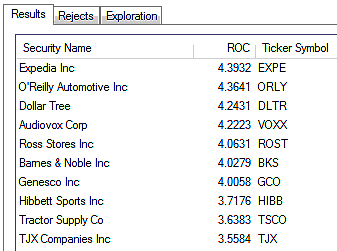 FIGURE 3: RELATIVE STRENGTH. The top 10 relative strength retail stocks vs. the .SPX over the past calendar quarter.
Graphic provided by: MetaStock.
Graphic provided by: MetaStock Explorer.
Finally, Figure 1 shows the top 10 relative strength retailing stocks over the last calendar quarter, as compared to the .SPX. Run some of these on your favorite technical systems and see which of them are flashing multiple buy or sell signals in this topsy-turvy stock market scenario we've seen for the past couple of months. It can and should be time well spent.