The greed of the banks, placing client deposits into risky assets like mortgage-backed securities, caused the recent market meltdown. Their books and investment strategies are under close scrutiny, and the Volcker rule, a specific section of the Dodd-Frank Wall Street Reform and Consumer Protection Act that has been proposed by economist and former Federal Reserve Chairman Paul Volcker to restrict US banks from making certain kinds of speculative investments that do not benefit their customers, is still in the works, and could become law sometime this year.

However, there are banks that were already under close scrutiny, carefully watched, and were not part of the global meltdown to the extent American banks were. Those banks reside in Canada, where no bank received a government bailout to weather the crises. One of them, Toronto Dominion Bank (TD), is worth looking at.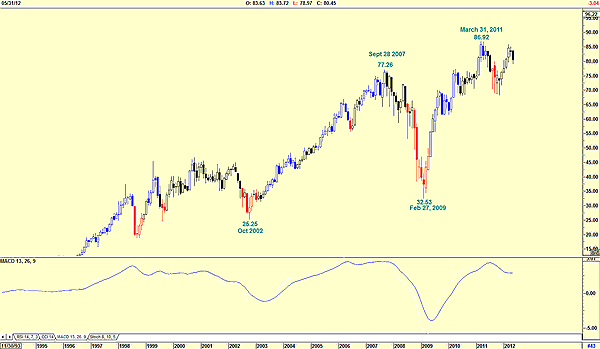 FIGURE 1: TD, MONTHLY
Graphic provided by: AdvancedGET.
Figure 1 is a monthly chart and shows that yes indeed, Canada's banks did indeed fall heavily as the banking crises took hold in the US and Europe. In October 2002, the price of TD Bank was $25.25 and then rose strongly to a high of $77.26 by September 28, 2007. The share price then collapsed to $32.53 by February 27, 2009, a 57.9% collapse. From that date, the share price rose steadily to a high of $86.92 by March 2011. The chart shows that the share price appears to have now formed a double top, at $8.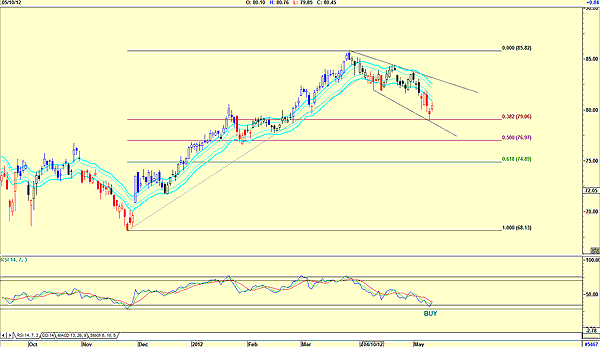 FIGURE 2: TD, DAILY
Graphic provided by: AdvancedGET.
Figure 2, a daily chart of TD Bank, shows how the price moved from a low of $68.13 to a high of $85.82. The share price is currently testing the 38.2% Fibonacci level at $79.06. The relative strength index (RSI) has given a buy signal, suggesting that traders could buy the stock, while investors could wait until the price breaks above the upper line of the JM internal band indicator.

What is disturbing is that the trendlines drawn do suggest a trumpet-shaped formation. This type of formation suggests indecision. To finalize my decision whether to buy, I looked at the chart in Figure 3.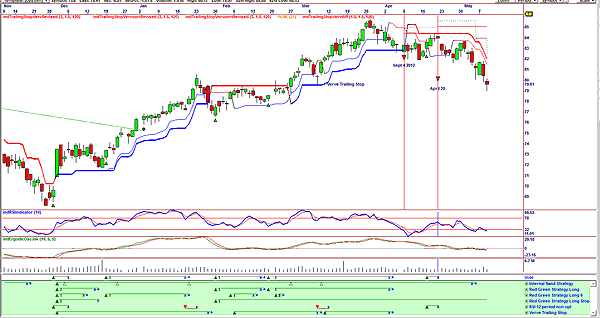 FIGURE 3: TD DAILY, OMNITRADER
Graphic provided by: OmniTrader.
Figure 3 shows that a stop-loss signal was given on September 4, 2012, when the price broke below the Verve trailing stop-loss. This was reinforced on April 20, when the vote line, a summation of the six strategies shown in green below the vote line, gave a stop signal. At the moment, the vote line has not given a buy signal, although the strategy, red green long stop, is still in positive mode.

TD Bank is on my watchlist, even though Figure 2 is suggesting an RSI buy signal. I would rather wait for a confirmatory buy signal by the chart in Figure 3, or a break above the upper JM internal band line.