The mining industry group stocks have been in a funk for months now, and despite near-record high prices for consumer staples like gasoline and food, the price of gold and silver remain well off of their (nominal) all-time highs of 2011. However, once the gold and silver markets decide to run higher, wise traders will already have identified a shopping list of fundamentally sound gold, silver, copper, and other metals mining stocks that will be most likely to benefit from the next big rally in the precious metals markets. Here's a look at a method to scan for such stocks, using tools built into TradeStation.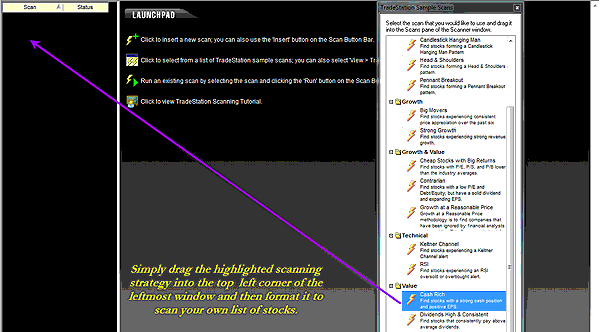 FIGURE 1: TRADESTATION SCANNER. TradeStation's scanner feature comes loaded with more than 20 prebuilt technical and fundamental scans. A simple drag & drop across the screen gets the process initiated.
Graphic provided by: TradeStation.
Using this TradeStation (TS) scanning method for cash-rich stocks is simple and straightforward:

After starting TS 9.0 (or higher versions), simply click on the "scanner" icon on the left side of your screen (Figure 1). The scanner window will open up and a single right-click in the scanner window will bring up a menu of choices -- click on "View TradeStation sample scans" and then scroll down the new scan strategy box that appears until you arrive at the "Cash Rich" sample scan and then drag it to the extreme left window (Figure 2).

Your next task is to format the scan in order to select the stocks you want to screen. To do this, simply click on "format" and then select the "symbol universe" tab, click the down arrow next to "All symbols" and then click on the Reuters Symbol lists. Open that list and click on Industry groups/Basic Materials/Gold and Silver/Metal mining (Figure 3). This will include more than 300 stocks that the scanner will evaluate, according to the cash-rich strategy goal of finding stocks with a strong cash position and positive earnings per share.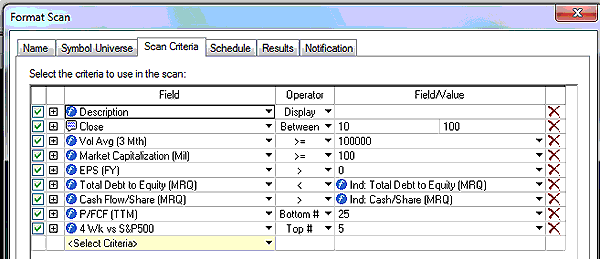 FIGURE 2: SAMPLE SCAN. Here's the basic cash-rich sample scan form TradeStation. For this article, an additional scan stipulation is that the stocks must also be outperforming the .SPX over the past four weeks.
Graphic provided by: TradeStation.
Once your list of stocks is ready, we'll want to modify the actual scan criteria to make sure that only the stocks that are outperforming the .SPX over the past four weeks are included in the final scan output. The scanner allows you to fine-tune this criteria by allowing you to scan for stocks that are outperforming the .SPX over the past four-, 13-, 26-, or 52-week periods; for the sake of this article, we'll focus only on those mining stocks that are outperforming over the last four weeks. By the way, you can see the rest of the fundamental inputs for the scan in Figure 2. When all of this minor setup work is complete, simply close the formatting window and then click "run."

In 30 seconds, TradeStation will scan the stocks you have selected and return a list of those that pass muster. In this case, only five stocks made the grade:

BVN: Compania De Minas Buenaventuras
EGO: Eldorado Gold Corp.
HAYN: Haynes International
GOLD: Randgold Resources
RGLD: Royalgold, Inc.

All of these stocks are fundamentally attractive, at least according to the criteria we have used for the scan. They are also performing better than the .SPX over the past four weeks. You can easily create charts for each stock from within the scanner window and then begin to apply your technical studies and trading systems to each one.

Now, of course, simply locating a group of potential stock market winners doesn't necessarily mean that you should jump right in and buy each of these stocks right away, but at least you will have a way to locate quality stocks when the market conditions for the next bull run in the metals markets decide to materialize.

Here's a possible way to know when to trade these stocks:

1. Using GDX as a proxy for the gold mining stocks, wait for GDX to trade above its nine-day exponential moving average (EMA).

2. Run this same scan, using only stocks from the gold and silver symbol list.

3. Take the top five stocks and equally divide your trading capital into each stock at the next trading session's open.

4. Hold each stock until GDX makes a daily close below its nine-period EMA.

By following this simple routine, you are stacking the odds of success in your favor in three ways:

1. You are waiting for the broad universe of gold/silver mining stocks to demonstrate bullish momentum.

2. You are deploying your funds into metals stocks with very sound fundamental value.

3. You are diversifying your trading capital to minimize the risk that a shocking news event (bad earnings, corporate scandal, and so on) could inflict on any given stock in this five-stock portfolio.

4. You have an objective, mechanical entry and exit trigger for the trades.

Will this simple trading system work? Perhaps. Are you willing to paper trade it and run the scan every day as well as monitor GDX's relationship to its nine-day EMA every day? If you are willing to do so, you will learn many things regarding the nuances, strengths, and weaknesses of this system, one based on a basic set of fundamental and technical criteria. Try it out. You may be surprised at how well it works!




FIGURE 3: STOCK SELECTION. The stocks selected for the scan include those from the gold/silver and metal mining industry groups. Here are the top five stocks that were located by it.
Graphic provided by: TradeStation.