In Joliet, IL, 800 unionized workers at a Caterpillar, Inc. (CAT), manufacturing plant went on strike on May 1, 2012, yet the stock moved only slightly lower once trading commenced later that morning.

Although the 800 workers represent only a small portion of the company's work force, it would still seem to be an important event in the life of the company's share price, given that earnings may be affected if the replacement workers at the plant aren't as productive at the striking workers are (when they're not on strike, of course).

Yet, at little more than two hours into that day's trading session, CAT shares are actually trading higher by 0.45% (after having a very mild pullback during the first hour of trading). What's going on here, anyway? Don't news events have a direct, immediate influence on stock prices, or is there a bigger picture we need to be aware of? Here's a brief look at the recent price action of CAT, along with a possible explanation for such action. See Figure 1.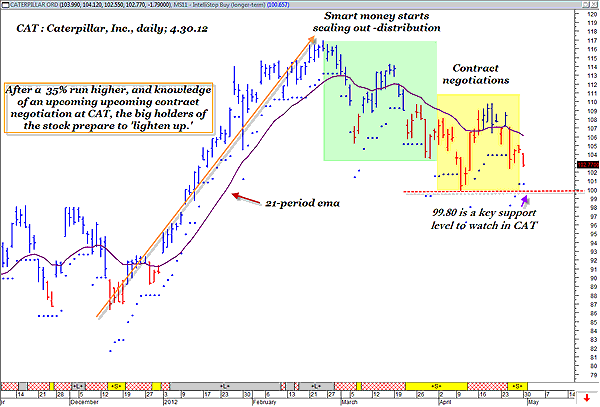 FIGURE 1: CAT, DAILY. If you had just made 35% on your CAT shares in just two months, and you knew that the company might have labor union issues just a few months down the road, do you think it might have been a good idea to lighten up on at least some of your holdings in the stock? At least some smart money interests apparently thought that was a very wise thing to do, judging from the action on CAT's daily chart.
Graphic provided by: MetaStock.
Graphic provided by: CS Scientific expert from MetaStock 11.
Contract negotiations between the United Auto Workers (UAW) and Caterpillar management have been under way since late March 2012, but with the vote to reject (by 94% of the workers covered by the contract) the latest company offer on April 29, 2012, and the strike of May 1 a done deal, it would seem likely that traders and investors would be looking to lighten up on their CAT holdings and/or look for opportunity to aggressively short-sell the stock.

However, the stock sold off by a mere $0.81 after Tuesday's open before rallying up by as much as $0.73 above Monday's close of 102.77. So why wasn't there more follow-through to the downside on CAT, given that their corporate earnings will likely face a bit of deterioration if the strike drags on? See Figure 2.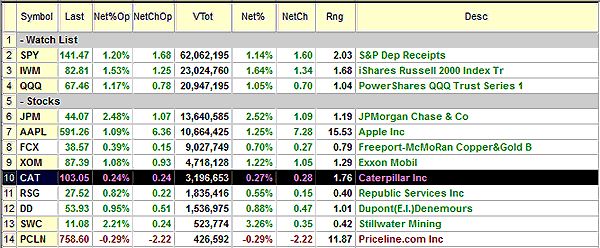 FIGURE 2: CAT FIGHT. Less than three hours into Tuesday's trading session, CAT shares shrug off news of the newly initiated strike at the company's Joliet manufacturing facility.
Graphic provided by: TradeStation.
The answer is fairly simple.

This news event was already factored into the price of CAT shares at the time of the strike's onset. Or as some technicians would remind us, "All known information, fundamental and technical, is already integrated into the current valuation of a stock at any given time." While the general public and John Q. Investor may only have recently learned of the possibility of a strike at CAT Joliet, look at all of the other movers and shakers who knew months in advance that a labor dispute and/or strike was a possibility:

1. CAT management
2. The UAW negotiators
3. Wall Street analysts who follow CAT
4. Big pension funds and mutual funds that hold millions of CAT shares.

In theory and in practice, at least some of these groups who were well aware of the upcoming contract negotiations at CAT apparently decided to lighten up their holdings in the stock, starting in late February 2012. CAT had just completed a wonderful two-month-long bull run that saw gains of more than 35% in the stock, and it's little wonder that savvy, forward-thinking money managers began to sell out of their positions, causing net distribution in the stock well before any hint of a labor dispute could jeopardize their ability to scale out of at least a portion of their CAT holdings.

The price chart clearly shows the wave-like, orderly selling pressure the stock endured since the February 2012 peak, perhaps lending more credibility to this theory. With most of the "big boys" already out of their unwanted CAT positions, the only people left to attempt to profit from short-selling CAT were ordinary retail traders, odd-lotters, daytraders, and so on. Apparently, their initial enthusiasm for selling CAT short got "clawed" by the time the first hour of trading was done, and the big-money traders began to accumulate some shares now that the long-anticipated news event was a done deal.

As a side note, CAT's price action is highly correlated to that of the .SPX over the past three years (it's a nearly perfect correlation of 1 to 1, coming in at 0.96), so it's no surprise that the CAT has begun to scramble higher even as the .SPX makes a strong run upward, shooting to meet and/or exceed its April 2012 high.

Be aware of this. No matter if you are a bull or a bear in this stock, always realize that in most cases the news is already factored into the current price of CAT or any other stock you may follow.