The recent corrective move in the broad US markets, while not a surprise to most seasoned technicians, did appear to catch many drowsy long-term investors asleep at the wheel as the .SPX and other major indexes all took about a 4% to 5% hit since peaking earlier this month. The grinding, tortuous topping/correction process in the .SPX during March-April 2012 also took quite a toll on the valuation of Baker Hughes (BHI), one of the premier oil services firms in the world. The stock is down more than 15% just since March 21, 2012, since plunging south from the huge daily bar-based pennant pattern.

Currently, BHI appears to be in a minor consolidation zone (see green shaded box on Figure 1), which, in the context of the overall large-scale downtrend, may be yet another early warning signal of more continuation moves (to lower prices) yet to come. With the long-term money flow (based on the 100-period Chaikin money flow histogram (CMF)(100)) mired in heavily bearish territory, any new break below BHI's most recent swing low of 39.40 should be looked upon as a fairly low-risk shorting opportunity. The large pennant pattern's ideal price target is in the lower $30 range, and therefore a break down from this minor consolidation could be the trigger to really get the hungry bears going once again in this declining issue.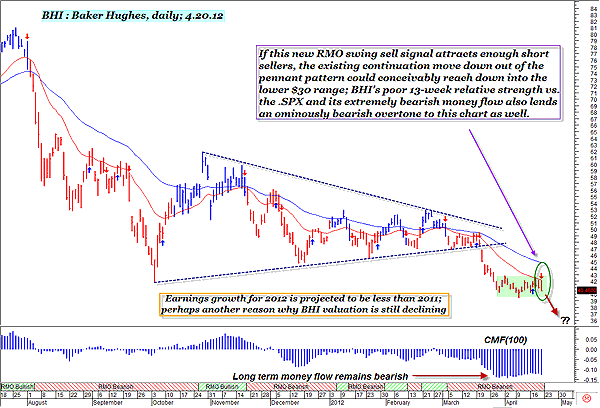 FIGURE 1: BHI, DAILY. After falling sharply lower from a large pennant pattern, has BHI finally located a strong area of support near 40.00 or is it destined to sell off on yet another continuation move lower?
Graphic provided by: MetaStock.
Graphic provided by: RMO indicators from MetaStock 11.
BHI also has poor 13-week comparative relative strength vs. the .SPX and has just fired a new RMO (Rahul Mohindar) swing sell signal; a drop below 40.45 will theoretically trigger a new short entry. More aggressive traders could use that trigger price to go short, while more conservative traders might want to wait for 39.40 to be taken out instead.

The next two support levels appear at 38.69 and 36.76, respectively, and those could be great, logical target prices for near-term put option buyers to aim for on a continued move southward by BHI. Using puts with two to three months of time value that are at or slightly in the money might be one low-risk way to play any upcoming break of support in the stock, as you already have heavy bearish pressure weighing on the stock, with only one real support level left (at 39.40) to hold back a potentially swift plunge toward 38.69-37.76. Just be sure to wait for the breakdown before buying the puts and be prepared to sell the puts if they decline in value by 50% or if your profit target is hit, whichever comes first. See Figure 2.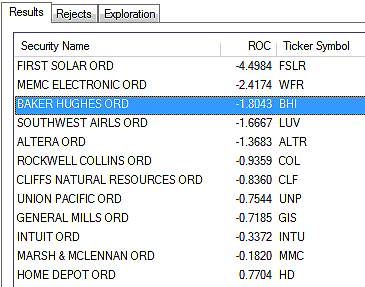 FIGURE 2: LARGE-CAP STOCKS. Twelve large-cap stocks firing RMO swing sell signals at the close of trading on April 20, 2012. All but one stock is underperforming the .SPX over that past calendar quarter.
Graphic provided by: MetaStock.
Graphic provided by: MetaStock Explorer.
As a side note, the .SPX isn't anticipated to make a significant multicycle low until the latter half of May or early June 2012, so the law of probabilities would still seem to favor more downside in BHI in the very near future. BHI has a three-year correlation of 0.71 vs. the .SPX, so any meaningful further decline in the .SPX should benefit BHI short sellers, too.