Vringo (VRNG) has been among the market leaders in April, jumping more than 30% on April 16 when Mark Cuban announced that he had invested in the company. Cuban is the billionaire owner of the NBA champion basketball team Dallas Mavericks, a team he bought after selling his Internet startup Broadcast.com to Yahoo near the peak of the Internet bubble. He has since earned a reputation as a great investor.

The chart of VRNG shows it gapped higher on the news of Cuban's investment. Interestingly, the stock had already seen a big move two weeks earlier. Technical analysts believe that markets discount the future, and the jump in early April may have been signaling the news to come. Traders want to know how they can spot the stocks before they jump. Several trades based on a trend-following system described in the book "Bollinger On Bollinger Bands" by John Bollinger are highlighted, and traders following this strategy would have been in ahead of the gains (Figure 1).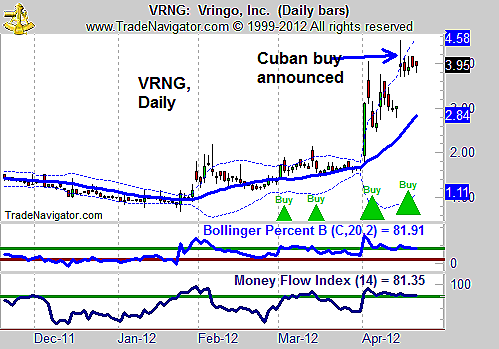 FIGURE 1: VRNG, DAILY. Buys are taken when both PercentB and MFI are above 80 and the position is held for four weeks.
Graphic provided by: Trade Navigator.
Bollinger defines a system that buys when the stock's PercentB exceeds 80 and a volume-based indicator, like the money flow index shown, is also above 80. Using a time exit of four weeks for the trade would have led to a buy on March 5 that is still holding the position. Backtesting on VRNG shows that this strategy has been correct 65% of the time with a profit factor of 2.5. The complete trading system statistics are shown in Figure 2.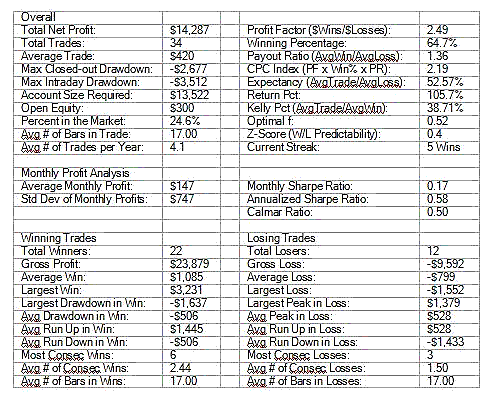 FIGURE 2: VRNG. Trading only four times a year on average, this trend-following strategy could be applied to other low-priced stocks in addition to VRNG by many traders.
Graphic provided by: Trade Navigator.
Longer term, could VRNG be a big winner? The biggest stock market winners are usually companies with new products and with sales and profits that trade at a low price. This company has a new product -- Vringo sells the Video Ringtones platform, a mobile app that lets users create, download, and share video ringtones for their phones. Its Facetones app has been downloaded by more than a million people. Facetone works with Facebook to create slideshows using pictures of a user's friends, an application that seems to be similar to the photo-sharing app Instagram that Facebook recently bought for $1 billion. Vringo has several other products that seem to be variants of this app. Sales are currently minimal, totaling $718,000 in 2011, but growing by 95% from a year earlier according to the company's most recent SEC filing. For the year, the company reported a loss of about $7.5 million.


Rather than sales and earnings, investors in VRNG may be focused on a patent lawsuit the company has filed. The company is involved in litigation against Google, AOL, Gannett, Target, and IAC. The trial is scheduled to start in October and could lead to a large payout for VRNG. A key hearing is set for June 4, and that may tell legal analysts how the trial could turn out.


VRING has some of the characteristics found in the biggest stock market winners of the past. It is a micro cap (market capitalization of less that $60 million) with strong sales growth (95% year over year), a low stock price (less than $5), and institutional interest (from Cuban). However, it seems to be a short-term play on patents rather a company with a product that will grow in popularity over the years. VRNG is tradable, but is unlikely to be one of the super stocks of the next 10 years.