Aside from a few minor bear rallies that Exco Resources (XCO) experienced during its devastating plunge down from 21.03 to 5.69 (in less than a year, no small feat), a skilled technician might look at the daily chart of this battered stock and consider writing it off as a lost cause. However, unless a company is going out of business or is about to have its stock delisted, most downtrends do eventually bottom out.

This, of course, does not mean that a heavily soldoff stock will ever manage to regain anywhere its former price level or it will even do much more than bumble around the lower end of the decline in a lackadaisical trading range, eating up useless space on trading and chart analysis screens for months on end. So, with that in mind, let's take a look at some of the technicals in XCO now (Figure 1).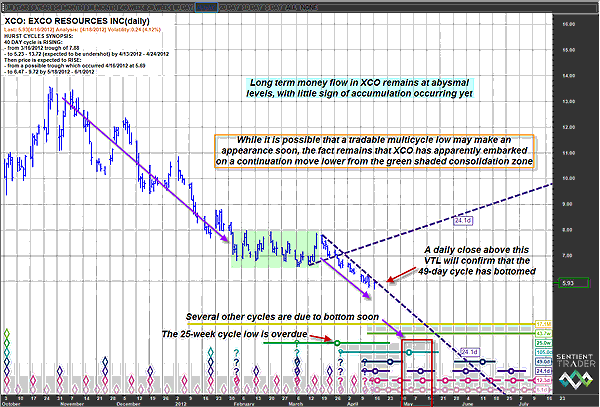 FIGURE 1: XCO, DAILY. With XCO heading south on a continuation move lower out of the recent consolidation zone, bulls in this stock might be well advised to wait for a daily close above the lower trendline before attempting to establish new long positions again.
Graphic provided by: Sentient Trader.
Although the major decline in XCO began in late April 2011, we'll focus here on its more recent price action since late October 2011. Clearly, the stock has been in bear mode for the entire time -- nearly six months now -- since the latest major wave down began after a minor rally to 13.55 on October 27, 2011; after the initial thrust lower, the stock traced out a noticeable trading range (green shaded box) between late January and mid-March 2012 before deciding to head south once again, in search of yet lower valuations.

That's the mode the stock is currently in, and until XCO can manage a daily close above its nearest downtrend line (the blue-dashed VTL or valid trendline), we need to assume that the bears are in firm control of this major move lower.

When (if?) that VTL is breached to the upside on a daily close, however, the stock may find some market participants willing to take a nibble in hopes of a more sustained relief rally. The 25-week cycle low is already running late, and with four other significant price cycles on track to perhaps make a multicycle low in early May, this could be a good time for the bulls in this stock to institute a scaling in strategy, especially if they find its 2.7% annual dividend yield to be an added attraction.

Earnings growth rates in the stock are poor, however, so the added lure of a nice dividend may just not be enough to get the bulls very interested -- yet. But if a tradable multicycle low can be made by early to mid-May 2012, the dividend yield could easily have reached 3% or more on a further decline and that could be the real spark that ignites a sustained rally, perhaps one that can erase at least most of the losses since the stock fell out the lower end of the recent trading range (near 6.55). See Figure 2.



FIGURE 2: XCO. Shares of XCO continue to decline, down more than 1.3% again -- with two hours left in the trading session -- on April 18, 2012.
Graphic provided by: TradeStation.
Graphic provided by: TradeStation.
So, playing XCO here could be kind of tricky. The stock has fallen so far and so fast that a violent short-covering rally could erupt without warning, and that makes potential short sellers nervous. On the other hand, the stock is still enmeshed in a very strong, sustained bear market, one that greedy, dividend-hungry bulls might have a hard time deploying cash into right now.

The safest course of action might just be to wait for the next multicycle low to print, one that is confirmed by a daily close above the previously mentioned VTL. Then the bulls can use the technical entry trigger of choice to start building a longer-term position or to just simply grab some quick profits on the next relief rally. Whichever route traders take here, they always need to limit their risk to a sensible amount, so that their trading accounts can avoid unnecessary damage when trades don't turn out as planned.