Big-cap stocks that tend to have slow, steady uptrends when the broad stock indexes are in bullish mode tend to be favorites among conservative institutional investors and retail traders who like to employ a covered-call strategy.

With a solid, eight-month long uptrend still in force in shares of Celgene Corp. (CELG), might not these same kinds of traders and/or investors see the current decline in the fundamentally sound stock as a prime buying opportunity? Let's take a closer look at the technicals and see if this is really just a pullback in an enduring uptrend or if it might be the start of a substantial trend reversal toward much lower valuations.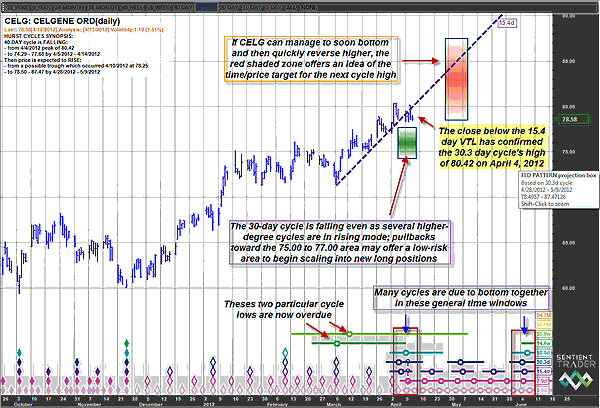 FIGURE 1: CELG, DAILY. Shares of Celgene Corp. have held up fairly well since the .SPX peaked and rolled over in early April 2012, failing to drop down into the green time/price target zone as anticipated. The stock could be setting up for yet another run higher before ultimately falling into a major multicycle low in late May to early June 2012.
Graphic provided by: Sentient Trader.
Looking at the daily cyclical analysis chart for CELG (Figure 1), we find that two higher-degree price cycles are now overdue -- the 14.6- and 30.8-week cycles, respectively -- and that the first portion of the time window for five other lower-degree cycles to bottom has now been reached.

The green shaded time/price projection box shows the general time/price targets for CELG based on current analysis; the time window has one more day to go, until April 14, 2012, and the price range is between 74.29 and 77.68. Early in Friday's trading session on April 13, 2012, CELG dropped close to the top of the green zone, falling as low as 77.87 before rising again.

Perhaps the stock is not destined to fall any lower at this point, and all of its key trading cycle lows are going to be a bit overdue, perhaps being delayed until after another rise into the aforementioned red zones. The rightmost of the two red outlined boxes near the bottom of the chart suggests that late May-early June 2012 is the next big time window in which to expect a major multicycle low in CELG.

CELG's fundamentals are very good, with solid earnings and revenue growth projections, so it's possible that this stock will hold up relatively well, even if it does suffer through a slump as it drops down into the next multicycle low in late May to early June 2012.



FIGURE 2: RMO. Only three large-cap stocks fired short RMO system trading signals at the close of trading on Thursday, April 12, 2012.
Graphic provided by: MetaStock.
Graphic provided by: MetaStock Explorer.
Long-term money flow, although still in the bullish zone, has manifested a noticeable bearish divergence with price, suggesting that a bit of distribution is occurring. The Rahul Mohindar (RMO) trading system has also just fired a sell signal; any drop below 78.38 would be considered a short entry trigger, so in actuality, this stock was triggered as a short sale earlier today (Figure 2).

Running a two-bar trailing stop of the daily highs would mean the stop-loss would currently be at about 80.18. If the stock falls, you would just keep on adjusting the stop lower, according to the high of two days earlier. The broad markets have found a minor short-term support level, but if these supports soon break down, then CELG may also join in and move lower, too.

If the markets can bounce higher, then CELG has a good running start toward making it up into the red time-price box by late April-early May 2012 at a price up to 87.47. The next few weeks of price action in this stock should be very interesting indeed; if you choose to trade CELG here, at least you know that the cyclical probabilities appear to favor more upside price action before another multicycle low is achieved, so trade with the odds in your favor, always according to the line of least resistance, as Jesse Livermore liked to put it.