Supervalu Inc. (SVU), based in Eden Prairie, MN, is one of the most innovative and aggressive marketers in the retail/wholesale grocery business, but its share price has tumbled by more than 38% and is now closing in on the psychologically important $5 price level. Many mutual funds refuse to purchase stocks trading under $5, so this is a very important level for SVU to maintain for a variety of reasons. Here's a closer look at SVU's current technical state, along with some analysis of what to be aware of as this stock seeks to make a meaningful, tradable low. See Figure 1.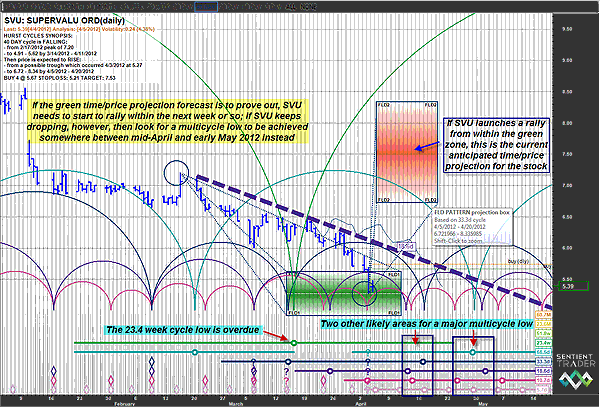 FIGURE 1: SVU, DAILY. SVU is quickly approaching a sort of make-or-break juncture of time/price projections. The stock needs to accelerate higher out of the green shaded area soon for the red time/price forecast zone to remain valid.
Graphic provided by: Sentient Trader.
The broad US markets continued to rise into 2012, only recently making what might be the ultimate high of the massive rally that launched in October 2011. However, in the case of SVU, the new year proceeded to give the stock a nonstop thrashing, seeing it gradually fall from 8.57 on January 3, 2012, all the way down to 5.27 on April 3.

Cyclical analysis in SVU reveals that both the 33.3- and 18.6-day cycles are still falling, even as the 10.7-day cycle appears to have bottomed. But the price of the stock itself is actually starting to accelerate to the downside, pulling sharply away from the 18.6 day valid trendline (the dashed blue line, also known as a VTL), indicating that it's far more important to focus on the 33.3- and 18.6-day cycles rather than the shorter cycles right now. In fact, we won't even know for certain that the 33.3-day cycle has officially bottomed until SVU manages to make a daily close above the VTL, and traders with a bullish bent on SVU should wait for that event to happen before really starting to load up on new long positions.

The green shaded time/price projection box suggests that SVU could go as low as 4.91 by April 11, 2012; note that the price is getting close to the right edge of the box, meaning that the multicycle low needed to make an enduring swing low may come at a later date than is currently anticipated.

If the current analysis is correct, however, and a confirmed rise above the VTL is completed, then SVU has a decent chance of rising into the red shaded time/price projection box. Such a feat would be admirable, given the extreme bearish sentiment in SVU right now, but there are other bearish factors that also come into play, things like abysmal medium-term money flow (based on the 34-period Chaikin money flow [CMF][34] histogram) and an extremely bearish situation in SVU's key daily moving averages (the 21- and 50-day exponential moving average [EMAs]).

There is no sign yet of a bullish price/money flow divergence (typically seen before many trend reversals), and with price pulling farther away from the two EMAs, the odds seem to favor more downside in SVU. The stock also has poor earnings growth projections, with yet another negative factor to consider. See Figure 2.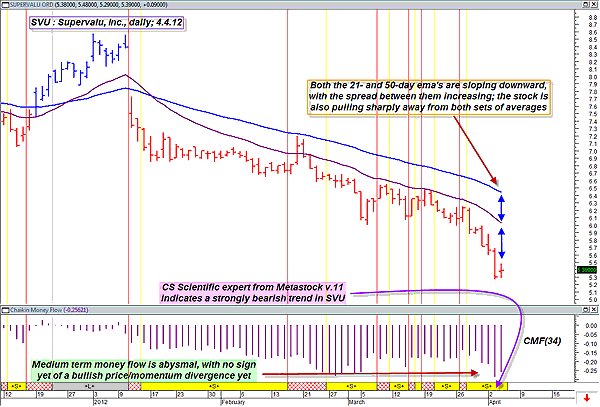 FIGURE 2: SVU, DAILY. Bearish momentum is increasing in SVU and money flow remains poor.
Graphic provided by: MetaStock.
Graphic provided by: CS Scientific expert from MetaStock 11.
The bottom line here is that unless SVU can soon launch a rally up from the green time/price projection zone, the upcoming multicycle low probably won't be seen until the mid-April to early May 2012 time window; the two outlined boxes at the lower right corner of the chart show two likely areas to anticipate such an important low.

The broad markets may be at an important near-term top now, with major distribution taking place before a noticeable correction, so play it safe if you are planning on acquiring shares of SVU in the near future. In this case, patience would seem to be a very important virtue, as waiting for a major low to be confirmed before going long is far safer than to try to pick a bottom in this stock, one that could take some time to form.