Many serious traders and mutual funds don't like to buy stocks in the $5 price range because of poor liquidity, but there are still some good, solid stocks available in that bargain basement area of the stock market. Here's a look at the recent performance of shares of NN, Inc. (NNBR), a small-cap stock that had a 100% increase in price from mid-December to mid-February -- and which may now once again be in a prime position to attempt yet another run higher. See Figures 1 and 2.



FIGURE 1: S&P 500. With the .SPX underperforming the .RUT over the past 13 weeks of trading action, now might be a good time to focus on small-cap stocks outperforming both of these key broad market indexes.
Graphic provided by: MetaStock.
Graphic provided by: MetaStock Explorer.
NNBR's share price really does tend to move around, allowing traders to latch onto powerful swing moves in either direction every few months; in May 2011, the stock traded as high as $19.39 and in June 2011 it bottomed at $12.49 before running up to $16.30 in July 2011. All were very nice, reasonably tradable swing moves.

As the Euro-mess gathered steam in July 2011, NNBR went over the proverbial cliff, finally crash landing at $5.64 in early August 2012. Once again, a powerful swing and/or trending move in this powerful little small-cap issue. NNBR also had a stunning 100%-plus run higher between October 4 and October 28, 2001, before it pulled back to the low $5 range in November/December 2012 and began the current bullish run it is currently enmeshed in. Clearly, NNBR has the right stuff as far as the ability to move 50% to 100% or even more, allowing skilled traders the opportunity to score sizable gains.

Technically, NNBR's daily chart portrays a very bullish image, as its long-term money flow histogram is remaining in extremely bullish territory -- even during the recent consolidation -- and the stock is still trading comfortably above the long-term MS Intellistop (red line on chart).

The MS Intellistop is standard in MetaStock 11 and functions in many ways like a volatility-based trailing stop. It has done a wonderful job of tracking the 100% rise in NNBR since mid-December 2011, not having even once been violated on a closing basis by the stock.

Finally, note the beautiful little wedge pattern that has formed as part of the consolidation; a daily break and then close above the dashed blue channel line may very well attract more buyers into this stock, one that has a tendency to follow through on successful breaks of significant support and resistance areas. NNBR is also outperforming the .RUT (the Russell 2000) by a wide margin, and this is yet another bullish factor to consider if you plan to trade this stock soon.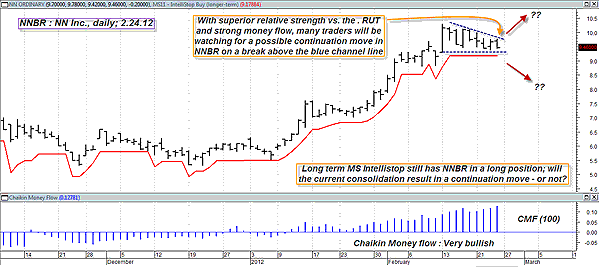 FIGURE 2: NNBR, DAILY. NNBR's daily chart scores major bullish points in terms of trendworthiness, long-term money flow, and high relative strength versus its parent index, the .RUT. A confirmed break above $9.78 could be the trigger to launch yet another run higher in this volatile issue.
Graphic provided by: MetaStock.
Graphic provided by: MS11 Intellistops from MetaStock 11.
Options liquidity isn't all that great in NNBR, meaning that serious traders will most likely want to focus on trading stock-only positions on a break above $9.78, using an initial stop-loss of approximately $9.30 for short-term swing traders and $9.15 for longer-term trend followers. Short-term swing traders might want to use a two- to three-bar trailing stop of the daily lows, while trend followers could just use the long-term MS Intellistop to help them manage a long position in the stock.

Either way you choose to trade it, the daily chart setup in NNBR looks quite bullish, and if the broad market continues to grind higher, shares of this volatile small-cap stock should have little trouble in attracting new waves of buying interest.