PRINT THIS ARTICLE
FIBONACCI
---
Gold Still Shining, But For How Much Longer?
03/01/12 02:09:24 PM
---
by James Kupfer
---
Gold seems to have upside potential left, but how far will it go?
Security:
$GOLD
Position:
Buy
At the very end of January, I suggested that gold was due for a temporary pullback before it would likely resume its upward move. On February 3, gold reached an intraday high of almost 1766, which was points above the resistance levels I had indicated and points below the Fibonacci level shown on Figure 1.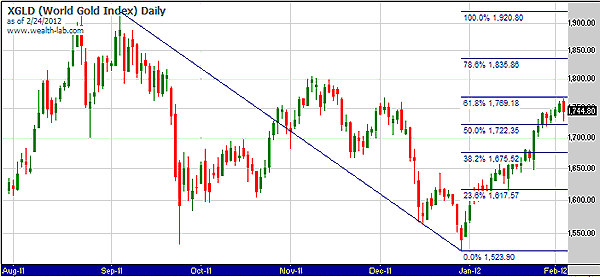 FIGURE 1: XGLD, DAILY
Graphic provided by: Wealth-Lab.
As you can see in Figure 2, gold retreated the bare minimum 23.6%. It touched the 1709 level twice on an intraday basis over the following weeks and has subsequently moved higher. So where will gold go now?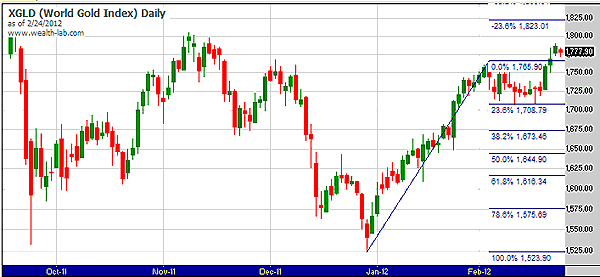 FIGURE 2: XGLD, DAILY
Graphic provided by: Wealth-Lab.
Having moved above its previous resistance point at 1766, that level now becomes support for gold. In addition, that gold only retraced a very minor amount is a testament to its underlying strength. On the flip side, I would actually have found it more comforting had gold retraced further to the 1765 level to build more of a base and support the continuation of a move up.


That said, the 1778 level seems to be a reasonable buying point with a stop around 1765. The expectation would be a continuation of the move upward to a minimum price target of 1823. The 1836 level is more significant and would present a much more difficult target to exceed should it be reached. See Figure 3.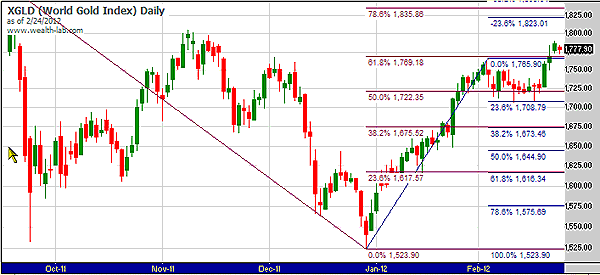 FIGURE 3: XGLD, DAILY
Graphic provided by: Wealth-Lab.
---
James Kupfer
Mr. Kupfer is a market professional and amateur stock market commentator. Disclosure: It is likely that Mr. Kupfer has or will enter a position in any security he writes about.
---
Click here for more information about our publications!
PRINT THIS ARTICLE