PRINT THIS ARTICLE
MOMENTUM
---
Range Resources Surging After Minor Consolidation
02/27/12 09:53:40 AM
---
by Donald W. Pendergast, Jr.
---
Shares of Range Resources are going higher after gapping up from a minor consolidation pattern.
Security:
RRC
Position:
N/A
The current uptrend in the Standard & Poor's 500 (.SPX) is two months old now, if we use December 19, 2011, as the starting point. If we use the prior swing low of November 25, 2011, we can say that the .SPX has been trending higher since the late November -- all the way from 1158.66 to as high as 1363.40.

For an index made up of 500 stocks hailing from virtually all industry groups, that's a very healthy trend move. There have been several times over the past three months where I have noted that this thing needs to take a break and retrace a third of these recent gains before going higher, but such a retracement has never yet appeared. The only rational thing to do is to stop second-guessing the broad market and to focus on finding the stocks that are actually outperforming based on their own unique buy/sell signals.

One such stock is Range Resources (RRC), which is up by 20% in just four weeks. I located this stock with the able assistance of the Deel momentum filter in MetaStock 11, and we'll take a look at it now (Figures 1 and 2).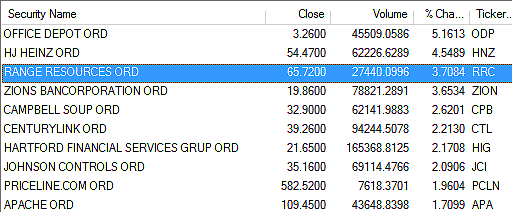 FIGURE 1: MOMENTUM The 10 highest-momentum large-cap stocks located by the Deel momentum filter on Friday, February 17, 2012.
Graphic provided by: MetaStock.
Graphic provided by: MetaStock Explorer.
Any stock up by 20% in a month is sure to be of interest to momentum traders, especially those stocks that have attractive chart patterns. RRC just gapped higher after a minor consolidation pattern and may now be in a continuation swing that could have a good deal more to run.

Long-term money flow in the stock is now in extremely bullish territory (based on the 100-period Chaikin money flow histogram), and the MetaStock CS Scientific expert advisor (see the gray ribbon at the bottom of the chart) is also confirming that RRC is now enmeshed in a very strong uptrend. What's especially nice is the symmetrical nature of the breakout pattern triangle, which makes it relatively easy to determine key "go, no-go" price points. For example, setting an initial stop just below the lower channel line (which is actually the month-long uptrend line) near $61.85 helps provide an effective location for a stop, one that can also be progressively raised should RRC continue to trek higher into late March.

A two- or three-bar trailing stop of the daily lows can be one kind of stop to use, or you can even consider a volatility-based trailing stop or a time-based stop. RRC doesn't face strong chart resistance again until $73.74, which is more than $8.00 higher than Friday's close in the stock, meaning that this particular breakout pattern offers a very attractive risk-to-reward ratio. The possibility that RRC may also be in a continuation move also adds an extra element of bullishness, too.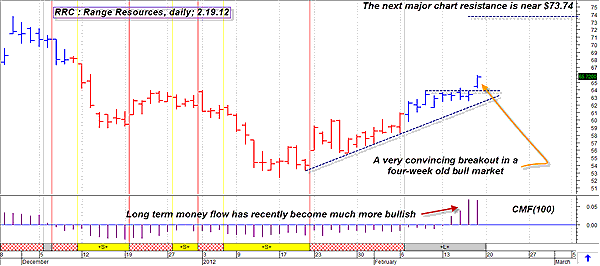 FIGURE 2: RRC, DAILY. This bullish pattern breakout trade setup offers an extremely attractive risk-to-reward ratio.
Graphic provided by: MetaStock.
Graphic provided by: CS Scientific expert from MetaStock 11.
Aggressive traders can choose to go the swing trading route in RRC, and more conservative traders might just consider going with a near-term covered-call play using slightly in-the-money calls. Use modest position sizing and always be prepared to cut short a trade that doesn't work out as planned, thus preserving your risk capital for more attractive trade setups.


---
Donald W. Pendergast, Jr.
Donald W. Pendergast is a financial markets consultant who offers specialized services to stock brokers and high net worth individuals who seek a better bottom line for their portfolios.
Title:
Writer, market consultant
Company:
Linear Trading Systems LLC
Jacksonville, FL 32217
Phone # for sales:
904-239-9564
E-mail address:
lineartradingsys@gmail.com

Traders' Resource Links

Linear Trading Systems LLC has not added any product or service information to TRADERS' RESOURCE.
---
Click here for more information about our publications!
Comments
PRINT THIS ARTICLE