Gold and silver have captured headlines and the attention of traders by starting 2012 with nice gains. Platinum has enjoyed an even faster start to the year and delivered bigger gains than other metals. From a trading perspective, that indicates that platinum has more relative strength than the other metals, and that makes platinum a buy on that basis alone. But, as they say on late-night infomercials, "Wait, there's more!" and in fact, there are several reasons that platinum is a great trading opportunity.


Many stock market analysts combine technical analysis with fundamental analysis. Some say that fundamentals are best for deciding what to buy and technicals are best for telling them when to buy. Fundamentals are difficult for traders to use in the metals market, however, because the forces of supply and demand are complex. Stock market analysts can examine earnings and cash flow, but measures like that don't exist for platinum. Many traders combining fundamentals and technicals use ratios to spot value and look for stocks with low price to earnings (P/E) or price to sales (P/S) ratios.

For platinum, the price of gold to platinum ratio could offer a similar insight. Low ratios point to value, and platinum is trading at a level that shows it might be a bargain (Figure 1).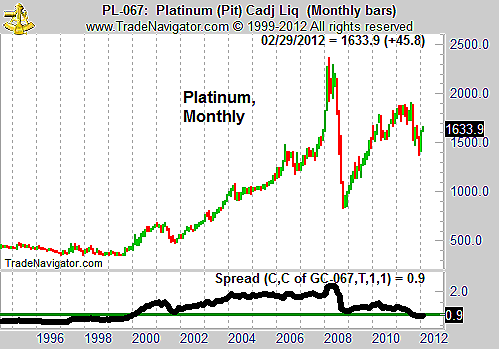 FIGURE 1: PLATINUM, MONTHLY. The gold-to-platinum ratio is at a level that in the past has signaled platinum is undervalued.
Graphic provided by: Trade Navigator.
Normally, the ratio has been greater than 1.0, but now it sits at 0.9. Stock market P/E ratios can stay undervalued for extended periods of time, even years, and this ratio could also stay at historical lows for years. But the ratio does indicate that platinum could be a good value trade. Technical analysis can then be used to decide whether the metal is a buy.


Williams' PercentR is a very useful indicator. It can be used to spot overbought and oversold levels, determine trend strength, or it can be used to identify the direction of the long-term trend. It is shown in Figure 2 on the weekly chart of platinum, and Bollinger Bands have been added to the indicator. PercentR recently broke above the upper band and is now back within the bands. In the past, this has been a buy signal, indicating that the initial up move is consolidating and further gains are likely.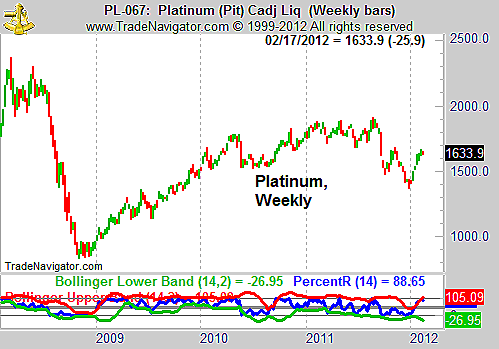 FIGURE 2: PLATINUM, WEEKLY. PercentR is above 50, indicating the trend is higher, and signaling a buy in platinum.
Graphic provided by: Trade Navigator.
For those who don't like the leverage or risks of futures contracts, platinum can also be traded as an exchange traded fund (ETF). The Physical Platinum Shares ETF (PPLT) is one possibility. Liquidity is good, but traders should watch the spread on any ETF and using a limit order could help get a better execution price.

Arbitrage opportunities for large traders ensure that the ETF will almost always be priced in line with the futures contract, but short-term differences and wide spreads are possible. There are other ETFs and there are also mining companies that offer exposure to platinum. Mining companies generally require a more detailed analysis because there are many variables that affect production costs, including political unrest in some parts of the world, and the argument that miners are just a leveraged play on a metal doesn't hold up to real-world price action.