Micron Technology's (MU) stock price can be rather volatile at times. Look at the wild, short-term spike higher in the midst of an otherwise mundane consolidation pattern during mid-November 2011, one driven by earnings-related news events. However, at other times, the stock can trend steadily higher, making nice, tradable swings in the process.

At present, the stock is near the upper end of the second uptrend phase since making a major low along with the rest of the broad market in early October 2011, and with Tuesday's sharp break higher, it appears to be in a prime position to attract even more buying pressure. Here's a brief look at MU's daily chart and this potential long entry setup now. See Figures 1 and 2.



FIGURE 1: LARGE-CAP STOCKS. Here are the large-cap stocks making new multimonth highs as of February 14, 2012.
Graphic provided by: MetaStock.
Graphic provided by: MetaStock Explorer.
Like so many other stock charts, once you develop an eye for trend patterns, support/resistance levels, money flow tendencies, time/price cycles, and relative strength rankings, picking good buy candidates in the stock market becomes a whole lot easier. And if you have a good, solid, noncurve-fitted trading system to generate the basic buy/sell signals, your job of stock picking gets easier.

Right now, MU features an accelerating uptrend, a steadily increasing long-term money flow trend that has recently returned to the bullish zome for the first time since June 2011. MU has also just surged higher after pulling back to test its 20-day exponential moving average (EMA), so all in all, this looks like a decent long swing trade and/or short-term covered-call setup in this stock, particularly since the CS Scientific expert advisor from MetaStock 11 is also confirming a very strong bullish trend bias in MU; see the gray ribbon at the bottom of the chart.

A few weeks ago, I wrote about a simple trading system using the CS Scientific expert colored price bar changes along with the MetaStock Intellistops to design a workable system that could possibly even be fine-tuned even further by sharp traders and system developers (see my Traders.com Advantage article entitled "Trading The .SPX Visually").

This objective and noncurve-fitted trading methodology would also have had you in a winning position from December 23, 2011, until final stopout on January 27, 2012, for a five-week gain of more than 14.4% before commissions and slippage had you gone long the last time MU's daily price bars had gone from red to blue.

There is no new trading signal based on the rules that I described in that article, but the stock still looks primed to go higher anyway. Regardless, it's nice to come across a simple, noncurve-fitted (that is, one dependent on more than three or four distinct signal-generating criteria) tradable that appears to have what it takes to let profits run while cutting losses fairly soon.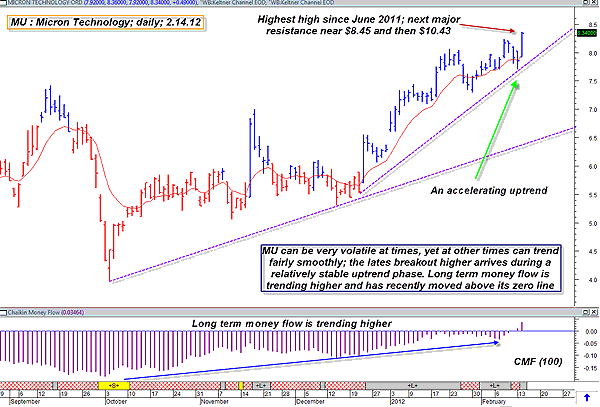 FIGURE 2: MU, DAILY. A new break higher during an established uptrend, especially when long-term money flow is moving higher, may signify a stock's intentions of moving even higher.
Graphic provided by: MetaStock.
Graphic provided by: CS Scientific expert from MetaStock 11.
For this new trade setup, swing traders might want to wait for a minor intraday pullback before putting on a long position, perhaps even scaling into the position by thirds on a show of continued strength. Covered-call traders might want to check out the March 2012 $8 covered-call play; it's in-the-money already but will still offer a decent rate of return, should the stock be called away in mid-March. The 20-day EMA could also be used as a reasonably good trailing stop-loss on the position; it's currently near $7.74 and is rising.

However you choose to trade MU here, please use wise position sizing strategies so you don't take on too much risk relative to your account size.