Shares of Pulte Homes (PHM) went on a four-month tear after making a major low in early October 2011, going from a low of $3.29 per share all the way up to $8.52 (February 6's intraday high). That's a 159% gain, and it is one reason why the homebuilding stocks are the second-best performing industry group in the entire US stock market (biotech stocks rank first in relative strength versus the .SPX). Let's look at the new Rahul Mohindar oscillator (RMO) swing buy signal in PHM and see if this particular long setup is attractive. See Figure 1.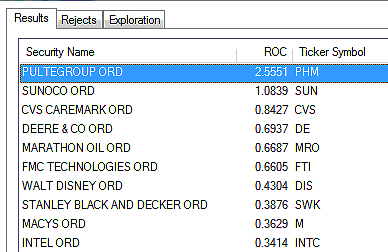 FIGURE 1: PULTE HOMES. The top relative strength RMO buy signals vs. the .SPX for February 6, 2012.
Graphic provided by: MetaStock.
Graphic provided by: MetaStock Explorer.
Recently, I received an email from a Traders Advantage reader, in which he commented on my recent analysis of Monsanto's daily chart. With the stock at a 52-week high and poised to run higher, he wondered why I hadn't observed that the upper Bollinger Bands (BBs) for the stock's daily chart may have been a bit too close for comfort for such a long trade entry. I explained that I don't normally use BBs to analyze charts (or to trade), because as a trend-follower, I resist the urge to pick tops and bottoms in the stocks and exchange traded funds (ETFs) I trade. However, I did tell him that I am sure many short-term traders do use BBs with great success, because they have learned to adapt that volatility-based indicator into their well-designed trading plan.

Looking at this chart of PHM got me thinking -- not about BBs being hot, but a longstanding area of chart resistance on the chart at $8.44. That's the May 31, 2011, high, and yes, traders should pay attention to it, but if you're a committed trend-follower using the RMO trading system in MetaStock 11, you really should take this long trade setup, provided the stock is already on your watchlist. Here's why:

1. Long-term money flow in PHM is holding up well -- no sign of divergence with price as of yet.

2. PHM has the best 13-week comparative strength vs. the .SPX of all large-cap stocks firing long RMO signals today.

3. RMO swing signals that fire in the diection of an existing trend should always be given the benefit of the doubt.

Now, about that major, multimonth resistance level at $8.44. For all we know, maybe this is the end of the road for this particular bullish run in PHM, but if we truly have faith in our trading systems/methods, then it would be crazy to second-guess every trading signal, trying to find just the right one that fires where all of the technicals, chart patterns, and fundamentals line up like magic. No, serious traders go with the probabilities and then place their trades, manage them wisely, and then hopefully cash in some gains by the time it's all over. Therefore, a serious trend-follower who has faith in the RMO system would be doing the right thing in taking this trade setup, even if it turns out to be a loser. See Figure 2.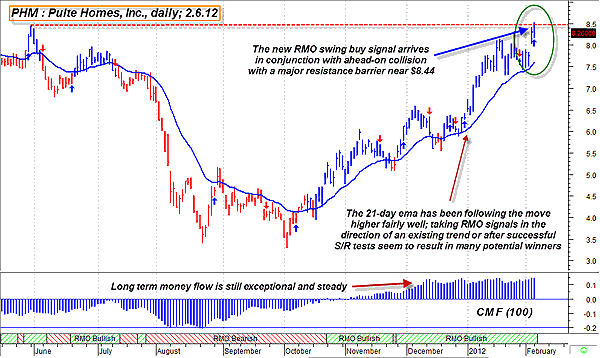 FIGURE 2: PHM, DAILY. While that major resistance level at $8.44 looks awfully intimidating to non-trend followers, faithful RMO swing traders will likely have no regrets taking a long entry here, win or lose, since the probabilities favor taking such signals in the direction of the major trend.
Graphic provided by: MetaStock.
The big idea here is to stay focused on your trading goals by following your trading rules. If you have a winning system, the probabilities favor your continued success, but only if you execute every new signal without hesitation or second-guessing. You can learn to do this if you commit yourself to acheiving this goal, so make this one of your New Year's resolutions and determine to take every new trade that your system fires in 2012 and beyond.