It's always an interesting time once a stock and/or broad market index has experienced a strong, steady runup in price. Traders and investors with long positions start getting nervous, focusing on news events and key earnings and economic releases, trying to stay abreast of anything that could sink their portfolio's ship.

However, since worry can't change a thing (except rob you of your peace of mind), perhaps such anxiety-prone market participants should just chill and learn to relax as the market makes up its mind about what it wants to do next.

One of the easiest ways to do that is to start trading/investing in stocks that:

A. Make new 52-week highs
B. Have exceptional relative strength vs. the broad market
C. Have stronger fundamental value than their peers.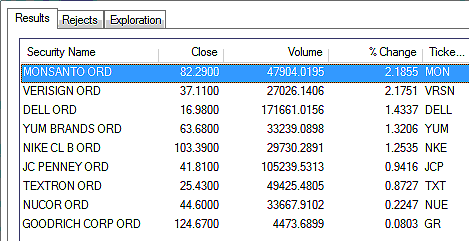 FIGURE 1: LARGE-CAP STOCKS. Here are the large-cap stocks making new highs for January 30, 2012.
Graphic provided by: MetaStock.
Graphic provided by: Deel New Highs screen from MetaStock 11.
Finding such stocks is relatively easy; most charting/trading platforms offer a variety of price-based, technical, and fundamental screens that can help you home in on solid stocks that may have a better chance of maintaining bullish momentum for a sustained period after purchase.

Note that I used the word "chance," as there is simply no fail-safe trading system available anywhere at any price; sometimes even the best of stocks take a dive right along with lesser issues when the public gets panicky and starts to sell everything in their portfolio because of excessive bad economic or political news. However, in many cases, fundamentally sound stocks that keep making new highs will fall much less severely than stocks hailing from lesser pedigrees.

With that, let's look at Monsanto Co. (MON), a large-cap titan that appears to be attempting to keep its recent string of new 52-week highs going strong. See Figures 1 and 2.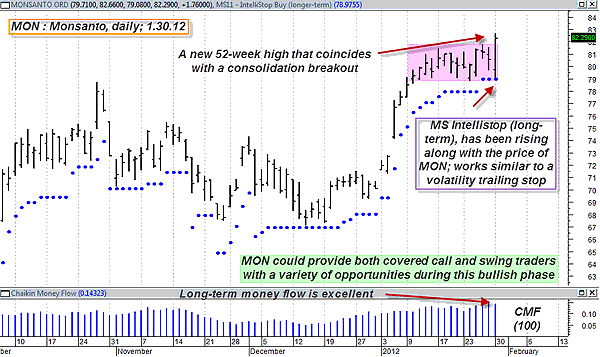 FIGURE 2: MON, DAILY. Monsanto shares may be attempting another run higher. Using Fibonacci ratios to help fine-tune potential price targets in case swing CD really gets going might be a wise move.
Graphic provided by: MetaStock.
Graphic provided by: MS11 Intellistops from MetaStock 11.
Monsanto's daily price graph is as bullish as can be, with the stock attempting to break higher from a recent rectangular consolidation pattern (pink zone), which if successful could morph into a continuation move with the price target of any new sustainable swing equaling a Fibonacci multiple of the $14 distance covered by swing AB (see blue boxes on chart). For example a 0.618 multiple of $14 is $8.65, so if we add that to probable point C, indicating the start of this new swing CD, we come up with $78.80 + $8.65, which equals $87.45 per share price target.

That's just one hypothetical possibility, of course, but Fibonacci swing ratio targets are always a good basis for establishing price targets in a situation like this. You could even use the 0.382 and 0.50 ratios to set more modest targets, perhaps using these smaller ratios to assist with a rational profit-taking plan should the move get that far.


Also depicted on the chart are the long-term Chaikin money flow (CMF)(100), which is extremely bullish and has been for weeks on end now, and the long-term MetaStock Intellistops for long positions. These stops come standard with MetaStock 11 and seem to work very well, maybe even better than the typical volatility trailing stops that are standard in many other charting programs.

The current value on the stop is $79.39, not too far away from the current price of MON. If MON can get clear of the recent consolidation, the stock could be a great near-term covered-call candidate or even a vehicle for 30- to 60-minute swing traders to milk for further upside potential. The trading possibilities are limited only by your level of creativity, imagination, and market savvy.