PRINT THIS ARTICLE
CHART ANALYSIS
---
A Double Top for Siebel Systems
05/17/02 01:29:51 PM
---
by Andrew Hetherington
---
The short-term future for Siebel Systems Incorporated looks weak.
Security:
SEBL
Position:
N/A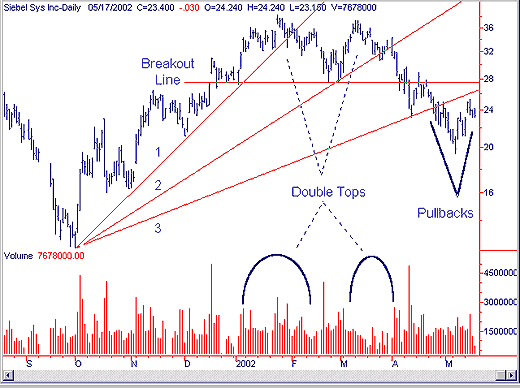 Graphic provided by SuperCharts.

Siebel Systems Inc. (SEBL) has formed a double top. As mentioned in previous articles these patterns need to have significantly higher volume on the first top compared to the second top. Also, we must have the breakout on the downside at the $27.60 area. In addition, a third fan line has broken to the downside, which pulled back to the sell short area of $25.30 on May 15, 2002. Double tops and bottoms are often seen on the charts by novice or amateur technicians. They occur less frequently than generally believed. If you watch the volume and the third fan line you will misdiagnose this pattern far less frequently.


The near-term future for Siebel is on the downside. My prognostication is for the previous bottom at the $20.00 area to be tested. If this bottom holds then it would be a good accumulation position to go long. However, if it breaks it will stop in the $16.50 - $17.50 area. This is a definite place to take a long position, taking into account the bottom on the QQQ's at $28.42.


The pullback to the short sell position in the $25.30 area was a fairly predictable opportunity. The third fan line break in conjunction with the double top left little doubt. If there was any doubt, it should have been erased on the typical bear pullback on lighter volume. This pullback from the $19.40 breakout gives ample time to take a position. A buy stop in the $26.00 area is necessary in case prices go in the opposite direction. The anticipated drop from $25.00 down to $20.00 is a significant move from an options standpoint. If option trading isn't your style, then a 20% move is still significant.


---
Andrew Hetherington
Classic Dow Theorist who trades as a pure technician, using pattern recognition.

---
Click here for more information about our publications!
Comments
Date:
 06/10/02
Rank:
 5
Comment:
PRINT THIS ARTICLE