No doubt about it, the bear market in the US Natural Gas Fund (UNG) has to go down as one of the worst (if not the single worst) price collapse episodes in the entire 19-year history of the exchange traded fund (ETF) market. It's mind-boggling to recall that only three and a half years ago it traded at a price above $127 per share (but not for long!) before embarking on the toboggan ride south from hell -- one that maybe, just maybe, reached its point of maximum cratering late last week when it made a near-term low of $4.98.

As I write this, UNG has traded as high as $5.42, up more than 9.2% from the low -- a tiny gain compared to the overall price slide since July 2008, but still a very convincing sign that a near-term swing low may finally be in place. See Figure 1.

While UNG must still be classified as being in a bear market on its daily, weekly, and monthly charts, if you drop down to a 60-minute chart (30- and 60-minute time frames are a favorite among certain swing traders), you begin to see a nascent bullish turn under way. In fact, once a swing high of $5.49 (dashed blue line) is exceeded on a closing basis, this 60-minute chart will be officially in confirmed reversal territory.

Once beyond that significant barrier, UNG may encounter more meaningful resistance in the $5.65/$5.67 region, which happens to include the top end of the lower clean gap (pink box) and a strong Fibonacci confluence retracement barrier. Meanwhile, a possible breakaway gap (green box) has just printed, just a couple of sessions after the very dominant red downtrend line was convincingly broken.

The 14-period relative strength index (RSI)(14) has also moved into its blue neutral zone for the first time since January 9; the current reading is 55.50 and momentum traders will likely begin to take notice, should the RSI hit 60 in the next session or two, as this would indicate a strengthening trend.

As a sidenote, while many pullback-type traders use an RSI set to 70 to signify "overbought" and 30 to signify "oversold," some swing and momentum traders use the RSI as a trend strength indicator, with 60 and above indicating a strong uptrend and 40 and below indicating a strong downtrend. The latter method is what is depicted here.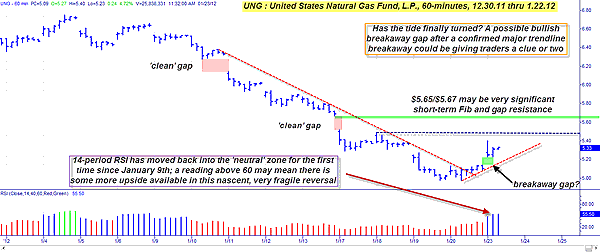 FIGURE 1: UNG, HOURLY. Every downtrend has to end somewhere, but the real issue is always on how best to confirm that a subsequent bullish reversal is for real. On this 60-minute chart, one of the primary confirmations for a bullish reversal will be once the January 18, 2012, swing high of $5.49 is exceeded on a closing bar basis.
Graphic provided by: TradeStation.
Probably one of the simplest plays in UNG is for conservative traders to go the covered call route, selling 1 February $5 call for every 100 shares of UNG acquired (or already owned). The bid-ask spread at this strike is reasonably good and open interest is excellent.

The simple premise behind this trade idea is to have your shares in UNG called away at February expiration. The trade won't yield all that much, but that's why this is a conservative, low-risk trade in the first place. You'd net about $15 (that's on a per-contract basis before commissions, so make sure your broker offers cheap option contract commissions) if you put the trade on now with UNG trading at about $5.42.

This trade gives you a bit of cushion to ride out and minor back-and-fill moves in UNG and may also give you a higher probability of profit, even though the profits available are very modest.

More aggressive traders might want to consider selling near-term puts in UNG; a $5 February 12 put is selling for about $0.16 right now, and if this uptrend really starts catching a bid, that option premium could shrivel away faster than an ice cube on an El Paso street corner in July. However, if UNG decides that a retest of the $5.00 area is on its near-term agenda, then you want to make sure you buy back your option by the time it rises to $0.35.

Anyway you choose to play UNG, always use conservative position sizing and always be prepared for this or any other stock, ETF, or index to do anything at any time, usually when you least expect it. A good defense is your best ally if you hope to have a long and prosperous trading career and should be of prime importance in every trading methodology. See Figure 2.



FIGURE 2: MODERN GREEKS. At the time of writing, these were the latest greeks, open interest, volume, and bid-ask info for a variety of February 2012 calls in UNG.
Graphic provided by: TradeStation.