Adams Golf (ADGF) gained more than 35% in 2011 and started 2012 with big gains. This is a small company that in many ways fits the profile of a potential long-term winner. It sells gold clubs and consistently shows a market share of at least 10% in a very large market. Being in a growth industry with room to expand, ADGF is well positioned for long-term investors. Insiders own more than half of the outstanding shares but have been selling shares with automatic plans that are unlikely to disrupt the market. The market cap is very small, about $60 million, and the average volume is light at less than 15,000 shares a day. That is a recipe for high spreads, and on a recent trading day, the bid/ask spread in ADGF was about 25 cents, about 3.2% of the stock's price. Entering and exiting on market orders could cost a trader 7% or more, so traders should use only limit orders with a stock like this.


Short term, the daily chart shows a potential breakout (Figure 1). This is where chart analysts can disagree on specifics, but whether they call the recent price action a potential cup & handle, a rounding bottom, or any other name, the implications are bullish.

ADGF recently broke above resistance near $7 and the pattern points to a large potential gain of about $3 a share, or nearly 40%. The pattern also highlights a potential stop-loss since resistance that is broken becomes support, and that would offer a potential risk of about 5% on the trade. Given the relative illiquidity of ADGF, traders should expect that a loss would be greater than that, since the spread on this stock is so wide.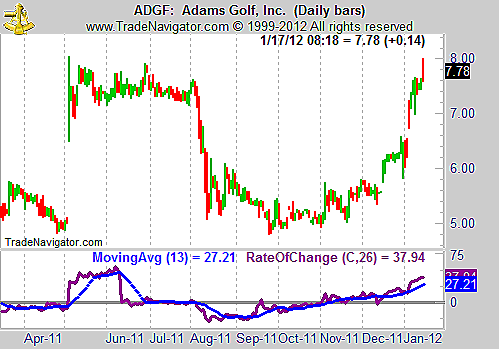 FIGURE 1: ADGF, DAILY. The daily chart of ADGF shows a breakout above resistance and completion of a months-long bottoming pattern.
Graphic provided by: Trade Navigator.
The daily chart also highlights the strong momentum in the stock, shown as the 26-day rate of change (ROC) indicator. As the price bottom in ADGF was forming in the autumn, the ROC turned positive, a bullish indicator. The weekly chart, shown in Figure 2, shows a similar chart pattern with long-term resistance being broken and a more recent bullish signal from the ROC, which has just turned positive over the longer time frame.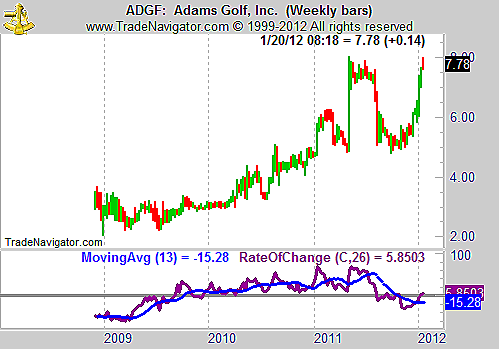 FIGURE 2: ADGF, WEEKLY. ADGF has been a long-term winner with a gain of more than 275% in the past three years.
Graphic provided by: Trade Navigator.
The high degree of insider ownership in ADGF shows that management has strong motivation to maximize shareholder value. In early January, the board of directors of the company announced that they had retained Morgan Stanley to review strategic options. That proved to be a catalyst for a short-term gain in the stock price. Longer term, the review may end without any action being taken, or it could lead to a buyout offer, capping potential gains in the stock.




ADGF fits the profile of a potential long-term winner. It is a small company with a strong record of sales and earnings. It has a good chart pattern in addition to solid fundamentals and management has a vested interest in the success of the company. The company is in a boring industry, the kind that has created some of the biggest stock market winners of all time. ADGF also offers the potential for a short-term trade with limited risk near $7 and the ability to use a trailing stop to capture long-term gains.