I don't know about you, but the global, long-term commodity boom isn't looking too robust right now; crude oil is still well below its all-time high set in July 2008, gold has pulled back substantially, and silver took a real beating since making a run at $50 again back in April 2011. And it's not just the metals and energies (seen a natural gas chart lately? It's like the proverbial bottom has fallen out of that market) that are way off in price; the agricultural commodities are also in retracement, too. See Figure 1.

Which brings us to today's chart, that of the Powershares DB Agriculture exchange traded fund (ETF) (Figure 2). Its most recent major weekly swing high was made less than a year ago, and although the retracement is modest, say, compared to that of silver futures, the stock did retrace a full 61.8% of its major AB swing (June 2010 to February 2011). Although it has managed a minor bounce since the retracement, DBA looks to be in a threatening mode toward the Fibonacci confluence area formed from swing AB and the smaller swing embedded within it.

The ratios aren't in perfect agreement, of course, but sometimes in the stock market, close is good enough, and once you see a major move get under way, you don't want to be second-guessing because your exact predictions didn't play out like you thought they would.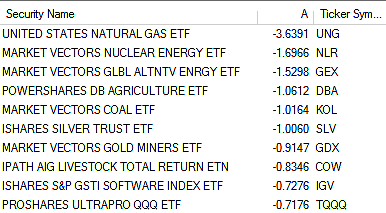 FIGURE 1: THE WEAKEST ETFS. Some of the weakest ETFs in the market as compared to their recent 13-week relative strength ranking versus the .SPX.
Graphic provided by: MetaStock.
Graphic provided by: MetaStock Explorer.
Currently, the recently triggered Raff MarketSpace Stock system sell signal is still not officially triggered, as the following weeks of trading action did not bring price down beneath the low of the trade signal bar. But note that if the trade is triggered (say, by dropping $0.10 under $27.57 that both Fibonacci support levels will be history, possibly bringing in a wave of fresh selling pressure).

DBA may not be the most popular trading vehicle among traders, but it is surely a terrific way for equity traders to get in on the ups and downs of the commodity markets, and without having to open a futures trading account or trade on margin to boot. What a deal! The great thing about commodity-linked ETFs is the fact that you can trade as little of one share if you want or 50,000 -- whatever you want to. You surely can't do that with futures; incrementally increase or decrease your position size as precisely as you can by trading stocks and ETFs, especially with a small trading account.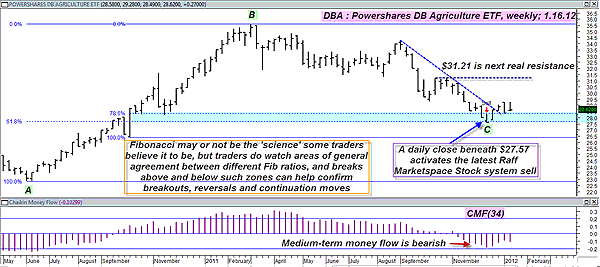 FIGURE 2: DBA, WEEKLY. A daily or weekly close below $27.57 might give the bears more reasons to get more aggressive in selling shares of DBA.
Graphic provided by: MetaStock.
Graphic provided by: Raff MarketSpace Stock system from MetaStock 11.
For example, maybe you want to start trading your favorite system on DBA, but you only want to start with 50 shares, and then gradually work your way up to 250 shares in 20-share increments over the course of a six-month period. In other words, it's way more practical and scalable for most traders to go with stocks rather than futures, and let's face it, most retail traders shouldn't be trading on margin (futures) at all. They're better off staying with fully paid-for stock, using systems that they can gradually increase size with, over time.

Think about that the next time you have visions of a pot of gold when you see those forex and futures trading firm ads on TV or on the Internet. Stick with nonleveraged stocks and conservative stock option plays and you'll probably enjoy a much happier and longer-lived trading career than those who end up as margin fodder. Talk to any number of people who have traded futures, and you probably won't hear of too many success stories -- that is, if they're really being honest with you!

Stick with boring, paid-for stocks, avoid the use of margin, and develop or buy a good, simple and reliable trading system and then learn to work it for all it's worth. With so many commodity and currency-linked ETFs to choose from these days, why even consider trading futures or forex again?