Shares of Pall Corp. (PLL) have been trending higher since the major market low of October 4, 2011, gaining a full 50% in just three months; the stock tends to bottom, rise sharply, consolidate, break higher, go sideways again, break higher, and so on in a semichaotic yet controlled fashion, surely pleasing those who managed to buy it at various times since that low was made. And yet again, PLL is breaking higher from a consolidation zone, this time with plenty of volume and range on the move. Here's a closer look now. See Figure 1.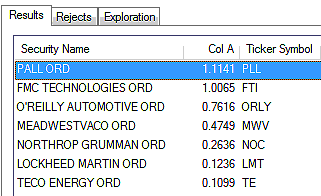 FIGURE 1: PALL. The top relative strength RMO swing buy signals (versus the .SPX) at Thursday, January 12's close.
Graphic provided by: MetaStock.
Graphic provided by: MetaStock Explorer.
Running the MetaStock Rahul Mohindar (RMO) swing buy exploration on a group of hundreds of large-cap stocks after Thursday's close revealed the list of stocks depicted here, all of which are outperforming the .SPX over the past 13 weeks of trading action. The top hound in the pack is Pall Corp. (PLL), a maker of industrial filtration products. The daily chart for PLL is very encouraging for bulls who like to latch on to high relative strength stocks with a good earnings growth potential and solid fundamentals. See Figure 2.

While fundamental values don't always affect a stock's price immediately, in the case of PLL, the fundies and the technicals are moving along, hand in hand. Trend strength, as measured by the AroonUp (14) indicator (bottom of chart), is clearly back in full bull mode, the stock's uptrend is still strong, and even the long-term money flow (not shown) is also apparently supportive of potentially higher valuations in the stock.

The fresh RMO (Rahul Mohindar) swing buy signal is also a big selling feature for bulls, what with the wide-range daily breakout bar that just printed as it rose out of the recent month-long consolidation. All in all, a very bullish picture, especially if the broad market indexes continue to claw their way higher, seemingly shrugging off the euro debt mess and all of the other political/economic mayhem at work in the world today.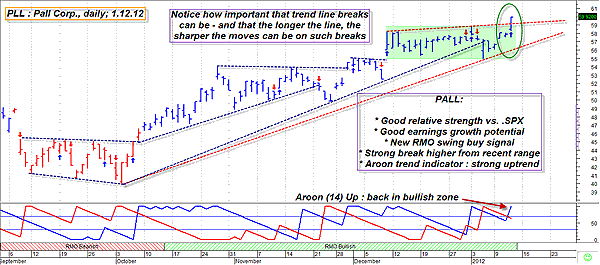 FIGURE 2: PALL, DAILY. Strong trend, a powerful breakout, and solid fundamentals all combine to attract investor and trader interest in this particular large-cap issue.
Graphic provided by: MetaStock.
Graphic provided by: RMO indicators from MetaStock 11.
One of the easiest ways to play PLL here might be to go the covered-call route, looking to sell a near-term call option against every 100 shares you already own (or plan to soon acquire). The long-term uptrend line (red dashed line) might act as a very good make-or-break delineator for the trade, where a daily close below it could act as your objective "get out of the trade" signal. Alternatively, using a 20- to 25-period exponential moving average (EMA) as your trailing stop might just accomplish a similar result.


Stock-only traders might want to just wait to enter on a buy-stop market order on a rise above Thursday's high of $59.97, letting upward momentum draft you into your position. It is far riskier to just buy at the next market's open, for you never know what might happen; the stock might gap lower at the open and decide to just keep heading south for the winter, with the RMO trigger bar high never even getting hit. Just something to think about if you choose to trade these kind of setups.