In my previous Traders Advantage piece, I described some possible advantages of using a quicker entry on the MetaStock Fractal 2 trading system (which comes standard in MetaStock 11) as compared to the standard exit signal programmed into the strategy. Basing my findings on dirt-simple visual analysis of the signals and exits, it was easy to see that cutting the hold time down to a maximum of two days -- after the entry signal fired, that is -- actually increased profitability even as it reduced the holding time by nearly 85%. Remember, the buy signals print on an end-of-day basis, meaning you can go long anytime in the next two sessions, provided that the high of the trigger bar is exceeded. If the signal bar high isn't exceeded during those two bars, you simply scrap the setup and wait for the next one to fire in a different stock.

I don't know about you, but gaining 0.4% on a trade in two days is a lot more appealing than gaining the same amount in 17 days. You can find more signals to trade with all of the capital that this frees up, possibly dramatically increasing the profitability of this already satisfactory long-only system. With that bit of information tucked under your belt, here's a look at another stock that appears to show great potential when used with the two days-and-out trading method in Fractal 2. See Figure 1.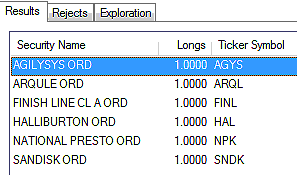 FIGURE 1: BUY SIGNALS. The mid- and large-cap stocks firing Fractal 2 buy signals for January 9, 2012.
Graphic provided by: MetaStock.
Graphic provided by: MetaStock Explorer.
Several stocks fired new Fractal 2 long signals on January 9, 2012; this is a look at the last three signals in Agilysys Inc. (AGYS), along with the brand-new signal that just printed. If you look on the chart, you see the pink-shaded area -- this simply shows you how much profit was returned by the trade. See Figure 2.

The first trade netted 0.335%, the second one bagged 6.98%, and the most recent closed trade also scored, grabbing 0.30%. All of these hypothetical trades were closed at the end of the second daily bar following the initial trade signal bar, no matter if the trade actually triggered an entry (by rising at least one tick over the high of the signal bar) on the first or the second day after the signal bar.

You'll note in the first of these three closed trades, a trader would only have been in the market for one session, as the signal bar wasn't exceeded until two days after it originally printed. The other two closed trades did go the full two-day holding period. Now we see a new signal, so what's next? While no one knows if this trade will actually trigger, much less actually return a profit, here's one way to consider trading it.

Risking no more than 1% or 2% of your trading account on the trade, enter your position on a two-tick (in the case of a stock, that's $0.02) rise above Monday's trigger bar high of $8.92 and then place a sell-stop order (GTC) a few ticks below Monday's high of $8.59. That's a risk of $0.33 per share, or about 3.7%. Once you're in the trade, hold that stop until the close of trading on Wednesday afternoon and exit the trade a little before 1600 ET.

That's all there is to this method; it's very simple, very real-world, and very doable for traders who hate the idea of a long-term hold in a stock -- especially in a world of flash crashes, sovereign debt defaults, and other kinds of political and economic mayhem.

So are you up to the task of in-and-out trading? By using this modified version of the Fractal 2 trading system, you may find that trading becomes a lot less complex and possibly a lot more profitable. Give it a try in your paper trading account first, and when you're satisfied that this system will work for you, consider taking it live, starting with small amounts of capital. I think you're going to like what happens if you do.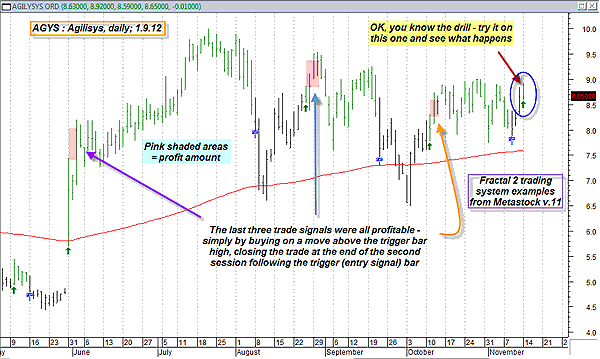 FIGURE 2: AGYS, DAILY. No trading system is perfect, but this time-truncated version of the Fractal 2 system may just be one of the simplest and most effective ones around.
Graphic provided by: MetaStock.
Graphic provided by: Fractal 2 system signals from MetaStock 11.