PRINT THIS ARTICLE
SUPPORT & RESISTANCE
---
For GDX, Is A Major Bottom At Hand?
01/03/12 12:53:17 PM
---
by Donald W. Pendergast, Jr.
---
When an area of support holds after three widely spaced tests, it may be time to start looking for signs of a bullish breakout.
Security:
GDX
Position:
N/A
Of all the actively traded exchange-traded funds (ETFs), there are few that exhibit more volatile price action than that of the Market Vectors Gold Miners ETF (GDX). Introduced only a few years back, this ETF provides traders and investors with a convenient, no-hassle way to hold a basket of key gold mining stocks in one simple to trade package. When GDX catches a bid, it tends to fly far enough to allow for a solid swing trading strategy to book some gains; conversely, when it decides that a decline is due, the plunge can be breathtaking -- and profitable -- for traders with the right systems. Even better, by trading GDX, you get to sidestep any stock-specific news-driven volatility that can batter an individual gold stock.

With this brief introduction, let's focus on the major area of support now evident on GDX's daily chart (Figure 1).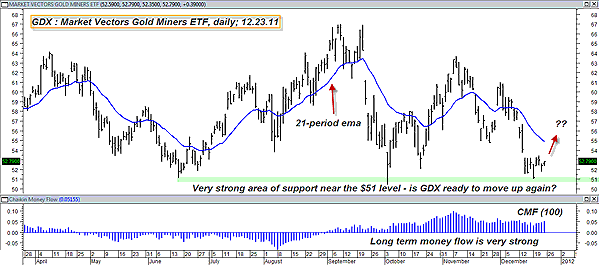 FIGURE 1: GDX, DAILY. When you see a bounce higher from the third zone of heavy support (green shaded area), it might be a good time to prepare to go long -- if you have a good trading system.
Graphic provided by: MetaStock.
If you're an active swing trader, take a close look at all of the tradable moves on this daily chart of GDX. Depending on how frequently you like to trade, there might be anywhere from six to 15 tradable moves depicted, the deciding factor being the kind of system you prefer to deploy in any given situation.

With GDX now having completed an initial retest of its third encounter with the $51.00 price zone, savvy swing traders need to be prepared to identify the kinds of upward breakout or breakout/pullback setups that might just get themselves into GDX's next swing up toward resistance, which in this case resides near the $54.80 level (the current value of the blue 21-period exponential moving average).

Before that price can be reached, GDX will need to close the open gap that spans the zone between $53.71 and $53.43. That may be eminently doable, considering that GDX's long-term Chaikin money flow (CMF)(100) histogram is still well into its bullish zone and has been so for nearly four months now.

Three support areas, spread over a six and a half month period and with each low separated by a time span of greater than two months each, would seem to imply that GDX is going to find plenty of willing hands to acquire shares on any dropdown below the $50 area. Not that it can't happen, but the market bias would seem to have definitely shifted in favor of the bulls in this hyperactive gold stock ETF.


Here are a couple of ideas on how to play a bullish breakout in GDX:

1. Wait for an RMO swing buy signal (must be a MetaStock user for access to this system) or even a Raff MarketSpace Stock system buy signal. Trail with a two- to three-bar stop of the daily lows until the final stopout.
2. Buy a near-term covered call, using a slightly in-the-money (ITM) call option (provides a bit more protection in case of a minor decline than ATM or OTM calls), if you believe GDX is likely to trend for the next month or two.
3. If you are more conservative, consider selling a bull put spread, using near-term put options where the top strike of the spread is $50. If the major support area breaks down hard (below $50), then that's your cue to bail out of the trade, no questions asked.



Some market analysts are actually of the persuasion that a major bull rally is imminent, one that could even be stronger than that we witnessed in October 2011. if that scenario plays out, then GDX will certainly also participate in the surge higher. Think carefully about how to best engage GDX if the rally commences soon -- maybe even this week. You never know just how far a market may decide to go if traders and investors get enthusiastic enough.


---
Donald W. Pendergast, Jr.
Donald W. Pendergast is a financial markets consultant who offers specialized services to stock brokers and high net worth individuals who seek a better bottom line for their portfolios.
Title:
Writer, market consultant
Company:
Linear Trading Systems LLC
Jacksonville, FL 32217
Phone # for sales:
904-239-9564
E-mail address:
lineartradingsys@gmail.com

Traders' Resource Links

Linear Trading Systems LLC has not added any product or service information to TRADERS' RESOURCE.
---
Click here for more information about our publications!
PRINT THIS ARTICLE