PRINT THIS ARTICLE
TRADING SYSTEMS
---
Bristol Myers Squibb New 52-Week High
12/15/11 03:12:24 PM
---
by Donald W. Pendergast, Jr.
---
Stocks that make new yearly highs even as the broad market declines are certainly worth investigating by serious traders and investors.
Security:
BMY
Position:
N/A
The big pharmaceutical stock industry group has been doing very well lately compared to the broad market as a whole, and few of those large-cap stocks are doing much better than shares of Bristol Myers Squibb (BMY) are. Here's a closer look at the powerful trend in motion in BMY (Figure 1).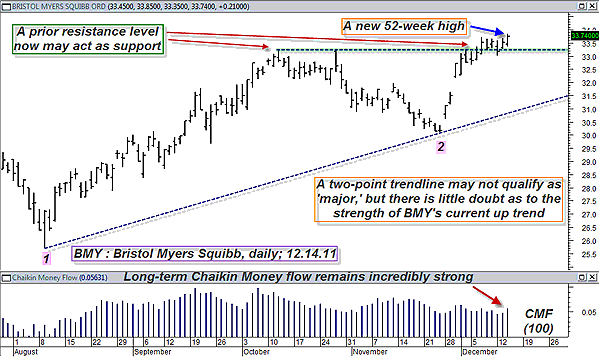 FIGURE 1: BMY, DAILY. Note how, when a strong resistance line is broken on a valid breakout, the line will frequently become a new support level for the stock or futures contract in question.
Graphic provided by: MetaStock.
Graphic provided by: Deel New Highs Screen from MetaStock 11.
BMY made a major low along with most of the rest of the broad US market in early August (after enduring the very scary eurozone-sparked panic selloff that dominated so much of the daily market action during July 2011), bottoming at $25.69 before going on a two-month tear, during which it rose to $33.08.

While a $7.39 per share gain in an eight-week period hardly seems like a "tear" for those used to trading triple-leveraged ETFs or highly volatile small-cap stocks, for traders used to the more typically sedate performance of dividend-paying big-caps, such a move was seen as heaven-sent. As you look at BMY's daily graph, it's not hard to understand just why the stock has been able to sustain such large-scale uptrending moves -- in three words, it amounts to this: "strong money flows."

Look at how the long-term Chaikin money flow (CMF)(100) went positive all the way back in May 2011 and how it has remained above its zero line, even through the major shock decline of July 2011. This was indicative that the dumb money was bailing out of their BMY positions and was in effect simply handing over their shares to the strong hands of the smart money players in the market who recognized the intrinsic earnings growth potential of the stock. Even the "kinder, gentler" decline during November 2011 that brought the stock down to trendline point 2 on the chart still saw the long-term money flow behaving very nicely -- well into the bullish side of the ledger.

Currently, BMY shares are at a fresh 52-week high (this stock was located by running the Standard & Poor's 500 component stocks through the Deel New Highs screen in MetaStock explorer, by the way) and have also exceeded the most recent swing highs made during October 2011. On Figure 1, witness how the previous resistance line has, for the moment, begun to act as a new support level in the wake of the successful breakout above said resistance line.

This is of major importance to bullish traders in BMY, as it should help give them much more confidence to time new long entries from this new and seemingly strong support level.


As far as taking a new long position in BMY, swing traders might just want to buy-stop an entry just above Wednesday's high of $33.85 and then run a two- to three-bar trailing stop of the daily lows as the trade progresses.

Covered-call devotees might want to sell a slightly in-the-money (the January 12 $32.50) BMY call option for every 100 shares they plan to acquire. There are only 36 days until January option expiration, and one practical way to manage such a buy-write position is to simply use the blue uptrend line as a trailing/initial stop for the entire position.

If you see BMY make a daily close below the line, you simply close out the entire position, win or lose. Sometimes the simplest ideas actually turn out to work the best -- especially in the complex, sometimes topsy-turvy world of stock trading. Try using trendlines as trailing stops in various longer-term positions that you hold and see if it doesn't help give you a more objective and enjoyable way to manage your trades.


---
Donald W. Pendergast, Jr.
Donald W. Pendergast is a financial markets consultant who offers specialized services to stock brokers and high net worth individuals who seek a better bottom line for their portfolios.
Title:
Writer, market consultant
Company:
Linear Trading Systems LLC
Jacksonville, FL 32217
Phone # for sales:
904-239-9564
E-mail address:
lineartradingsys@gmail.com

Traders' Resource Links

Linear Trading Systems LLC has not added any product or service information to TRADERS' RESOURCE.
---
Click here for more information about our publications!
PRINT THIS ARTICLE