PRINT THIS ARTICLE
STRATEGIES
---
The January Effect
12/13/11 09:06:48 AM
---
by Billy Williams
---
The year 2011 is rapidly coming to a close, but a phenomenon that always outperforms during a weak market may be setting up for an explosive move some time until mid-February 2012.
Security:
RUT-X
Position:
N/A
In a typical year, the small-cap stocks tend to stay on the sidelines without much price movement while the large-cap and blue-chip stocks are highly active during the same time period due to their popularity. However, up till around October or November, a shift occurs that results in the Russell 2000, the index for small-cap publicly traded companies, to experience its price spike higher. Labeled as the "January effect," small-cap stocks begin to outperform other segments of the stock market, especially in the second half of December, and has been known to follow through into January of the following year.

According to the "Stock Trader's Almanac," the January effect has a 23-year track record starting from 1987 to 2000, which shows that from December 15 to 30, performance in the Russell 2000 came in at 3.50%. And if you extend that outlook to February 15, then performance ratchets up to 5.3%, which accounts for the follow-through that is expected from the January effect.



This can be attributed to most small-cap stocks being dumped for tax reasons and/or underperformance during the year by institutional traders but then they experience renewed interest as these same traders return to the market in August or September and look to move the market higher by reinvesting in the best-performing small-cap stocks in order to meet their performance goals as anticipated year-end dividends, payouts, and bonuses become a factor.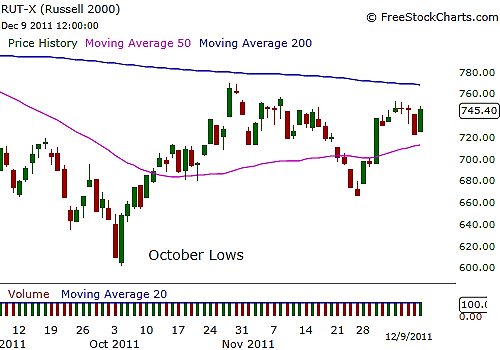 FIGURE 1: RUT-X. The Russell 2000 bounced off its lows in October and may be setting up as the January effect pushes it higher to outperform the market up till mid-February 2012.
Graphic provided by: www.freestockcharts.com.
This pattern experienced a downturn in the mid- to late 1990s as the result of larger stocks moving to breathtaking heights during the dotcom era, followed by a period of outperforming other stock classes. While during bullish periods it has weak performance, in bearish environments its performance has notably excelled. This, for more than any other reason during this period in the stock market, makes it an appealing strategy for the trader who has experienced a lackluster year due to a poorly performing stock market.


Already, the Russell 2000 has bottomed in October and rallied higher but stands ready to go higher if this pattern holds true. The December effect almost mirrors the January effect, but the overall market has failed to move higher as expected, which invalidates the December pattern at this stage of the game. Now, going into the second half of December, close attention must be made on the Russell 2000 for a strong move higher as January looms on the horizon. See Figure 1.

Look for a short-term trade using call options on the RUT-X and focus on strong price action to the upside up until mid-February 2012.



---
Billy Williams
Billy Williams has been trading the markets for 27 years, specializing in momentum trading with stocks and options.
Company:
StockOptionSystem.com
E-mail address:
stockoptionsystem.com@gmail.com

Traders' Resource Links

StockOptionSystem.com has not added any product or service information to TRADERS' RESOURCE.
---
Click here for more information about our publications!
PRINT THIS ARTICLE