PRINT THIS ARTICLE
MOMENTUM
---
Ryland Group Looking For A Move On Up?
12/09/11 09:14:42 AM
---
by Donald W. Pendergast, Jr.
---
Hard to believe, but some homebuilding stocks are actually on a tear.
Security:
RYL
Position:
Accumulate
Shares of Ryland Group (RYL) had a tough summer, taking a 50% haircut between early June and late August 2011, but the stock has already made up most of those losses since coming out of the market-wide low of October 4, 2011. Here's a closer look at the current technical state of Ryland's daily chart (Figure 1).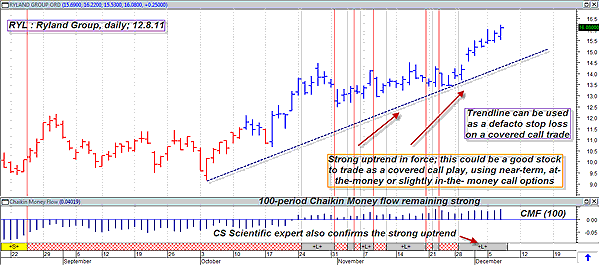 FIGURE 1: RYL, DAILY. Stocks that are showing persistently bullish price action may be among the better candidates to consider for covered-call trading.
Graphic provided by: MetaStock.
Graphic provided by: Deel Momentum Filter from MetaStock 11.
Although no particular system is actually firing a buy signal on RYL's daily time frame, it still might be instructive to note the powerful trend characteristics being displayed, especially for covered-call aficionados and for those intraday players who like to bias their trades according to the dominant daily trend on the stocks they regularly flip. RYL is doing very well indeed, and if the current trend persists much longer, then all of the summer losses will be nothing more than a fading memory.

Currently, RYL is manifesting a very strong uptrend -- one clearly defined by the trendline on the chart, as well as the MetaStock CS Scientific Hybrid trade screen (see gray ribbon at bottom of chart). In addition, the long-term Chaikin money flow (based on the [CMF] [100] histogram) is in a genuinely bullish mode right now, and that also bodes well for more upside potential for those who are currently biased toward trading the strong trend in the homebuilding stocks.

As I write this on Thursday morning, December 8, the broad US markets are in the midst of a minor (and very normal) period of consolidation and/or pullback that followed last week's mammoth bullish reversal, and this could be a prime opportunity for year-end bulls to start getting positioned for the possibility of another move higher. It may or may not play out, but the bias I see in the market is that the probabilities are leaning toward another strong surge higher. And soon.

We'll see if that happens, but in the meantime, why not consider looking at a near-term, at- or in-the-money covered-call play for RYL? Once you get filled on your quantity of shares and choice of call strike, you can always just rely on the current uptrend line to serve as your de facto trailing stop for the entire position. If you see a daily close below the line, you simply close the trade out, win or lose. If the stock just keeps trending up, then simply hold the position until options expiry or until the stock is called away from you.



There are trading opportunities in every market, and the better trained you are at finding them, the better your probabilities of making money over the long term. This high-momentum stock was located by using the Deel momentum filter screen in MetaStock Explorer, a great tool for any covered-call trader to use to find suitable candidates for this very conservative style of trading.


---
Donald W. Pendergast, Jr.
Donald W. Pendergast is a financial markets consultant who offers specialized services to stock brokers and high net worth individuals who seek a better bottom line for their portfolios.
Title:
Writer, market consultant
Company:
Linear Trading Systems LLC
Jacksonville, FL 32217
Phone # for sales:
904-239-9564
E-mail address:
lineartradingsys@gmail.com

Traders' Resource Links

Linear Trading Systems LLC has not added any product or service information to TRADERS' RESOURCE.
---
Click here for more information about our publications!
PRINT THIS ARTICLE