PRINT THIS ARTICLE
TRADING SYSTEMS
---
Aeropostale Delivering More Profits?
12/07/11 09:04:23 AM
---
by Donald W. Pendergast, Jr.
---
The stock market is no stronger than its components. Here's
a look at one of the more promising bullish trade setups currently available.
Security:
ARO
Position:
Buy
Shares of Aeropostale (ARO) have enjoyed a very nice surge since making a major low on September 22, 2011 -- up by more than 90% as of early November 2011 alone! After a modest (and typical) pullback, the stock may now be ready to climb higher once again. Here's a closer look at the setup in ARO (Figure 1).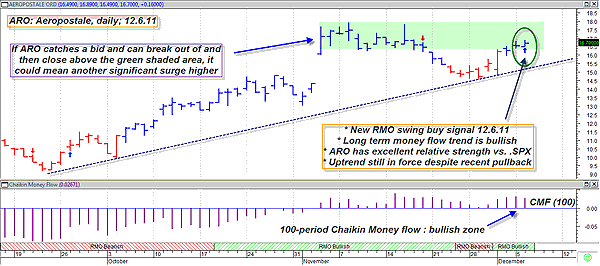 FIGURE 1: ARO, DAILY. This trade setup looks near-perfect, but wise traders already know that a pretty face doesn't necessarily mean a pretty heart -- and that risk control is of prime importance, no matter how good a trade setup looks on a chart.
Graphic provided by: MetaStock.
Graphic provided by: RMO system indicators from MetaStock 11.
Ever notice how the stocks of companies that do a lot of year-end holiday business always seem to go on a tear of some kind between late summer and the holiday season? Aeropostale certainly seems to qualify -- at least this year -- as its daily chart clearly depicts. Any stock that can rocket from the low $9 range to nearly $18 in only six weeks must surely have something good going on in terms of its earnings, sales, and profitability, and ARO does seem to be firing on most or all cylinders in this regard. The stock looks to have a lot of good things going for it, including:

1. Excellent long-term money flow (CMF)(100)
2. Superior comparative relative strength versus the .SPX
3. An established uptrend in motion
4. A new RMO (Rahul Mohindar) swing buy signal

While at first glance it may appear that the stock has little, if any, upside potential in the near future, in reality, ARO can pretty much head in any direction (down, sideways, higher) and all we can do is measure the probabilities and risks involved and then act accordingly. Clearly, if ARO can catch a bid and move above the green shaded area soon, that would bode well for those of the bullish persuasion. Conversely, a break and close below the long-term uptrend line would be rather bearish, negating the current bullish setup entirely.

Learn to limit your risk, even as you remain picky regarding the trade setups that you choose to engage. Your financial future depends on it, especially if you have numerous assets in the stock market that you trade with a system or other discretionary method.



---
Donald W. Pendergast, Jr.
Donald W. Pendergast is a financial markets consultant who offers specialized services to stock brokers and high net worth individuals who seek a better bottom line for their portfolios.
Title:
Writer, market consultant
Company:
Linear Trading Systems LLC
Jacksonville, FL 32217
Phone # for sales:
904-239-9564
E-mail address:
lineartradingsys@gmail.com

Traders' Resource Links

Linear Trading Systems LLC has not added any product or service information to TRADERS' RESOURCE.
---
Click here for more information about our publications!
PRINT THIS ARTICLE