PRINT THIS ARTICLE
FUTURES
---
Bullish Sentiment For NASDAQ 100
12/08/11 10:43:17 AM
---
by Mike Carr, CMT
---
Small speculators and commercials have very different opinions about the NASDAQ 100, and the divergence is bullish for stocks.
Security:
QQQ
Position:
Buy
Each week, the US Commodity Futures Trading Commission releases the Commitment of Traders (COT) report. This data offers insight into what various groups of traders, that is, large speculators, commercials and small speculators, are doing in each futures market. The latest data shows that there is a sharp divergence in the actions of individuals and commercials in the emini NADSAQ 100 contract. Commercials are as bullish as they have been in months, while individual small speculators are equally bearish (Figure 1).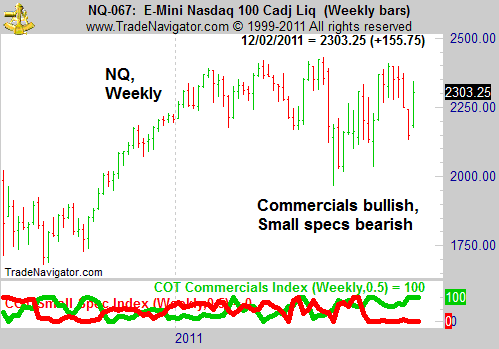 FIGURE 1: NASDAQ 100, WEEKLY
Graphic provided by: Trade Navigator.
In Figure 1, COT data has been converted to an index that shows the position of the latest data point relative to where it has been in the past six months. This can be done simply by plugging COT data into a stochastic indicator formula. Trader Larry Williams has written about this technique, and he advises traders to apply the stochastic formula to a variety of data. In this case, it makes the COT data much more useful.


For comparison, the raw data is shown in Figure 2. The data is unbounded in this chart. Most technicians find data that moves with a predefined range such as zero to 100 to be more useful. The general trend is still visible, but Figure 1 makes it easier to spot significant changes in the buying and selling patterns of each group.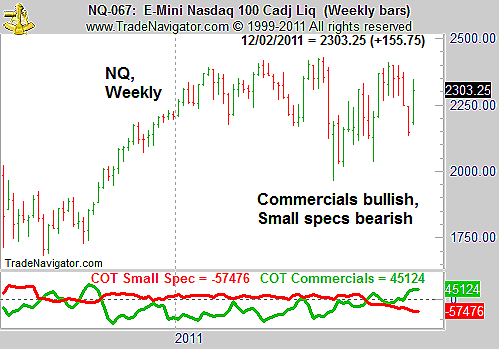 FIGURE 2: NASDAQ 100, WEEKLY
Graphic provided by: Trade Navigator.
There was a similar divergence in March 2009 -- right at the stock market bottom, where small specs were bearish while commercials were heavy buyers.

Sentiment is a useful indicator, and many traders try to interpret sentiment data from the tone used by guests on CNBC or by the headlines in their local newspapers. Others use sentiment surveys, but these gauge what is being said. COT data shows what real people are doing with real money and is a reliable measure of sentiment, especially when converted into an index.


For now, the actions of traders are bullish. But that sentiment can change quickly.


---
Mike Carr, CMT
Mike Carr, CMT, is a member of the Market Technicians Association, and editor of the MTA's newsletter, Technically Speaking. He is also the author of "Smarter Investing in Any Economy: The Definitive Guide to Relative Strength Investing," and "Conquering the Divide: How to Use Economic Indicators to Catch Stock Market Trends."
---
Click here for more information about our publications!
Comments
Date:
 12/06/11
Rank:
 5
Comment:
PRINT THIS ARTICLE