PRINT THIS ARTICLE
TRADING SYSTEMS
---
Fair Isaac New Buy Setup Awaits
12/01/11 09:04:30 AM
---
by Donald W. Pendergast, Jr.
---
Has the year-end rally begun? Sure looks like it, and here's one of the better long trade setups available now.
Security:
FICO
Position:
Buy
Fair Isaac (FICO), a stock hailing from the IT Services industry group, appears to be in a prime position to take advantage of the newfound strength in the broad US markets. Here's a closer look at FICO's daily chart (Figure 1), one that offers a lot to like for market bulls who enjoy trading a variety of daily buy signals.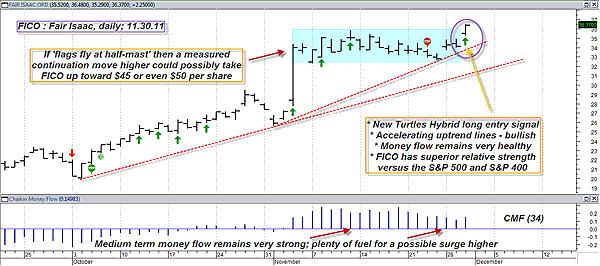 FIGURE 1: FICO, DAILY. Will FICO actually complete a measured move higher from the flag pattern? While the odds appear to be stacked in favor of some more gains for this stock, wise traders will always choose to keep their account risk on such a trade at 2% or less of their account equity.
Graphic provided by: MetaStock.
Graphic provided by: Turtles Hybrid expert advisor from MetaStock 11.
FICO has had a terrific run higher in the wake of the powerful reversal that commenced on October 4, 2011. Since then, the stock is up by more than 81% -- in only eight weeks! Incredibly, the stock is still in buy mode, what with a new "Hybrid Turtles" (one of the more useful MetaStock expert advisor trading templates) long entry signal printing on Wednesday, and that after a near-textbook consolidation pattern completed, one that may be foretelling that a measured move is already under way.

The old trader's saw that "flags fly at half-mast" may get put to the test on this particular chart, too. Look at how the recent consolidation (blue shaded rectangle) is essentially a flag pattern, one that printed after October's tremendous gains. With the new Turtle buy signal, all systems appear to be a go for FICO to at least try a measured move up out of the flag pattern, possibly en route to a price target of $45 to $50 or so.

The accelerating trendlines are also confirming the bullish trend, as is the very strong medium-term money flow posture (based on the 34-period Chaikin money flow [CMF][34]) histogram. Since FICO also possesses exceptionally good comparative relative strength versus the S&P 400 and its big-cap cousin, the venerable S&P 500, bullish traders should have little trouble allocating some risk capital to this relatively low-risk trade setup.


While a covered call looks like the safe way to play this, I would be more biased toward just going with a stock-only trade to make full use of any major trend that might develop in this stock during the next month or two. Getting long on a break above Wednesday's high of $36.48 gets the ball rolling, and then following up with a three-bar trailing stop of the daily lows would appear to be as good a trade management stop as any out there.

Limiting your account risk to 2% or less might be wise, no matter how insanely bullish the overall market situation appears to have become -- almost overnight, as Wednesday's phenomenal gains have already demonstrated. This should be a very exciting time to be a bull in the US stock market, at least for the next couple of months!


---
Donald W. Pendergast, Jr.
Donald W. Pendergast is a financial markets consultant who offers specialized services to stock brokers and high net worth individuals who seek a better bottom line for their portfolios.
Title:
Writer, market consultant
Company:
Linear Trading Systems LLC
Jacksonville, FL 32217
Phone # for sales:
904-239-9564
E-mail address:
lineartradingsys@gmail.com

Traders' Resource Links

Linear Trading Systems LLC has not added any product or service information to TRADERS' RESOURCE.
---
Click here for more information about our publications!
PRINT THIS ARTICLE