PRINT THIS ARTICLE
OVERBOUGHT OVERSOLD
---
Carpenter Technology Due For A Bounce?
11/28/11 10:13:14 AM
---
by Donald W. Pendergast, Jr.
---
Trying to catch a falling knife usually isn't wise, but it's still smart to be prepared for an upside reversal in a stock that has had a normal pullback.
Security:
CRS
Position:
N/A
One of the more interesting explorations in MetaStock is the Deel oversold reversal screen. This database screening tool helps locate stocks that are in an extremely bearish posture and also may become suitable buy candidates after a reversal patern finally prints on the chart. The idea is to keep a watchlist of the stocks generated by the screen and be prepared to put some money to work on the long side once a stock is clearly embarking into bullish reversal mode.

One such stock might be Carpenter Technology (CRS); this one was also located by the Deel exploration, and while it hasn't yet put in a reversal pattern, it does have a couple of other attractive technical indications that are clearly biased toward the notion of a tradable bounce higher in the near term. Here's a closer look now. See Figure 1.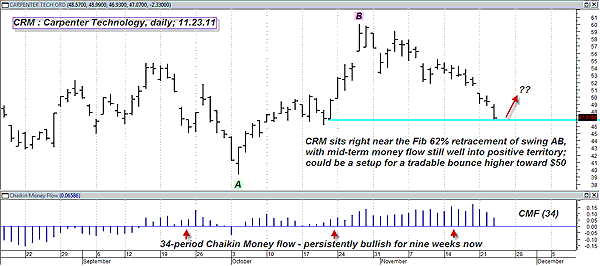 FIGURE 1: CRS, DAILY. If money flow remains persistently bullish even after a pullback to a significant Fibonacci or chart support level, you may want to keep a close watch for a bullish reversal setup bar or reversal pattern to form, only going long as the market proves the bullish reversal is for real.
Graphic provided by: MetaStock.
Graphic provided by: Deel Oversold Reversal Screen from MetaStock 11.
Shares of CRS had a tremendous run higher during October, running from a low of $39.32 all the way to $60 in just 23 calendar days. Not surprisingly, the stock has pulled back and now sits right near the Fibonacci 62% retracement of major swing AB (which in itself is the entire October rally). This Fibonacci support level (one of the most important Fibs of all) also happens to reside near the level of the prior minor swing low establish during October's strong rally. Another bullish aspect here is the very solid medium-term Chaikin money flow (CMF)(34) histogram; note how persistently bullish it's remained since mid-September 2010.


Really, what traders need to watch for now is a reversal bar. These can come as a single-bar reversal that initiates a tradable rally, or they can come as a multibar reversal pattern that also can act as a launching pad for a decent swing bounce profit opportunity. If you see CRS open lower (perhaps even with a gap) and then the stock quickly reverses and gains a dollar or two that day, closing near the highs of the day and perhaps even above the previous trading session's high, well, you've probably got a real reversal bar setup underway.

The next step is to consider going long on a buy-stop trigger above the reversal bar's high, making sure you're not taking on too much risk for the size of your account. Since you won't know how far the bullish reversal will travel, you may want to establish a short-term price target and then close out the trade as soon as it's hit, rather than trying to hold out for one of those all-too-infrequent major trend-following moves that never seem to show up when you really need them!


---
Donald W. Pendergast, Jr.
Donald W. Pendergast is a financial markets consultant who offers specialized services to stock brokers and high net worth individuals who seek a better bottom line for their portfolios.
Title:
Writer, market consultant
Company:
Linear Trading Systems LLC
Jacksonville, FL 32217
Phone # for sales:
904-239-9564
E-mail address:
lineartradingsys@gmail.com

Traders' Resource Links

Linear Trading Systems LLC has not added any product or service information to TRADERS' RESOURCE.
---
Click here for more information about our publications!
PRINT THIS ARTICLE