PRINT THIS ARTICLE
TRADING SYSTEMS
---
First Niagara Financial Group: Sell Or Not?
11/22/11 02:25:34 PM
---
by Donald W. Pendergast, Jr.
---
What happened to the year-end rally, anyway? No one knows, but here's an interesting-looking short sell trade setup in shares of First Niagara Financial Group.
Security:
FNFG
Position:
N/A
Shares of First Niagara Financial Group (FNFG) have been in a slow grind, sideways to down mode for several months now. And with the stock now closing on the last two significant swing lows, it will be interesting to see if the new RMO (Rahul Mohindar) swing sell signal is going to have meaningful downside now that the trade setup bar has triggered. You'll note that the actual sell signal arrived on November 17, but that wasn't a go until Thursday's low was taken out during Friday's trading session. This sell signal occurs as the stock is at and/or near major daily chart support levels and the long-term Chaikin money flow (CMF)(100) histogram is in a dreadfully bearish mode, well below its zero line and with nary a sign of positive divergence with price to be seen at all. See Figure 1.

The stock's comparative relative strength versus the .SPX is also relatively horrible, so at least the aggressive short-sellers in the audience have at least some technical indications leaning in favor of those wishing to take a shot on the short side here. I rarely short stocks anymore, finding it to be an activity that yields less profitability than trading the long side of the market, but that's my own experience. What I can advise those wishing to trade the short side is to "limit risk, limit risk, and limit risk" if you really want to go ahead and take this (or any) short trade. Short-covering rallies are a brutal reality in the trading world, so you always want to limit your exposure on the short side by doing the following:

1. Trade smaller sizes. If you usually risk 2% of your stock account on the long side, consider risking only 1% on a short trade.
2. Set nonnegotiable profit targets and initial stop/trailing stops that you will honor as the trade progresses. When either the profit target or stop-losses are hit, you're outta there!
3. Short only mid-cap or large-cap stocks with high average daily volume to help minimize the catastrophic effects of a violent short squeeze in a thinly traded small-cap (or any size cap) issue.
4. Short only the stocks from the groups/sectors with the worst comparative strength against the major stock indexes.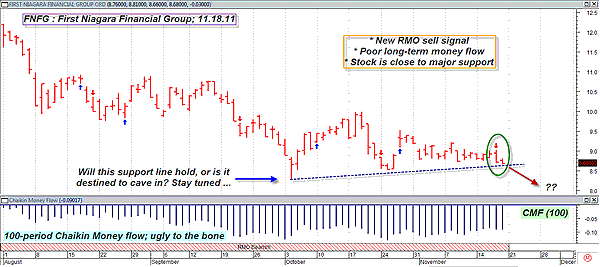 FIGURE 1: FNFG, DAILY. A fresh RMO sell signal, weak long-term money flow, and poor comparative relative strength against the .SPX are three of the bearish aspects of this daily chart of FNFG.
Graphic provided by: MetaStock.
Graphic provided by: RMO system indicators from MetaStock 11.
Follow these four simple rules to help your short-selling routine be a bit more profitable and a whole lot less risky. Consider implementing some of these tips now, should you take the plunge and short FNFG this week.


---
Donald W. Pendergast, Jr.
Donald W. Pendergast is a financial markets consultant who offers specialized services to stock brokers and high net worth individuals who seek a better bottom line for their portfolios.
Title:
Writer, market consultant
Company:
Linear Trading Systems LLC
Jacksonville, FL 32217
Phone # for sales:
904-239-9564
E-mail address:
lineartradingsys@gmail.com

Traders' Resource Links

Linear Trading Systems LLC has not added any product or service information to TRADERS' RESOURCE.
---
Click here for more information about our publications!
PRINT THIS ARTICLE