PRINT THIS ARTICLE
REL. STR COMPARATIVE
---
Does Buffett Use Technical Analysis?
11/17/11 08:27:04 AM
---
by Mike Carr, CMT
---
Warren Buffett recently announced a large purchase of IBM. The chart shows he bought the stock on dips.
Security:
IBM
Position:
Buy
Through Berkshire Hathaway, Warren Buffett bought about $10 billion worth of stock in IBM. He now owns about 5.5% of the company, and a Berkshire official was quoted as saying that they got the stock at an average price near $170 a share. Buying seems to have started in March, according to Buffett's comments, and was concluded early this quarter. With so much information, we can look at the chart for clues as to how Buffett buys. The subject of what he buys has been covered in many books, and the truth is no one really knows what he looks for. IBM is a brand name, large-cap stock with steady, double-digit earnings growth.


In Figure 1, we have highlighted the time frame when Buffett was buying. We can see that the $170 level represents a technical breakout. Relative strength shows that there was strong buying followed by relatively weak demand for the stock. Since Buffett acquired his position near the middle of the price range, it is likely he was buying on dips. His initial purchases likely came near the March lows, and his buying provided support to price in the following months.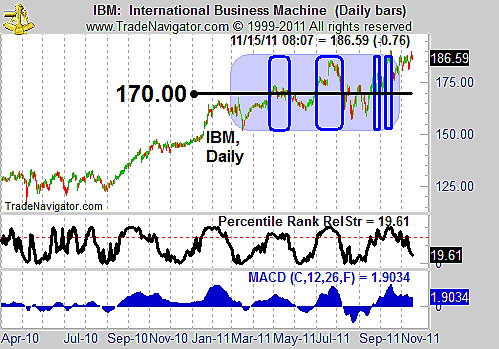 FIGURE 1: IBM, DAILY. IBM shows a great deal of volatility during the period that Buffett was buying.
Graphic provided by: Trade Navigator.
Rectangles in Figure 1 indicate the periods when relative strength was greater than 70. This may be showing Buffett's buying pattern. After pushing the price up with large purchases, he waited for a pullback before adding to his position. The moving average convergence/divergence (MACD) was generally bullish throughout this period but seems to be duplicating the information available from relative strength.




The monthly chart of IBM (Figure 2) shows that Buffett bought after IBM was reaching all-time highs. This may seem to be in contrast with his value philosophy, but IBM was trading with a price/earnings (P/E) ratio below the market average even after the breakout.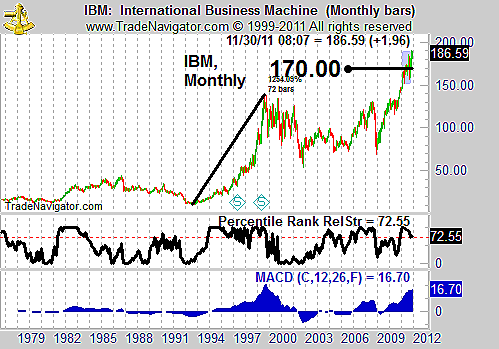 FIGURE 2: IBM, MONTHLY. IBM delivered a gain of more 1,200% in the mid-1990s.
Graphic provided by: Trade Navigator.
IBM was once a big stock-market winner, and Buffett obviously thinks it can repeat that feat. From IBM's chart, we can see that Buffett is an excellent trader in addition to being a master of stock selection. He patiently acquired his position without causing a big gain in the price.

IBM may be a value stock, but it is also a strong stock on the weekly and monthly charts. This helps dispel the idea that value means low-priced and beaten down. Buffett's purchase seems to show that he believes value and relative strength are compatible.



---
Mike Carr, CMT
Mike Carr, CMT, is a member of the Market Technicians Association, and editor of the MTA's newsletter, Technically Speaking. He is also the author of "Smarter Investing in Any Economy: The Definitive Guide to Relative Strength Investing," and "Conquering the Divide: How to Use Economic Indicators to Catch Stock Market Trends."
---
Click here for more information about our publications!
PRINT THIS ARTICLE