PRINT THIS ARTICLE
MACD
---
Berkshire Hathaway As One Of History's Biggest Winners
11/10/11 02:54:28 PM
---
by Mike Carr, CMT
---
Warren Buffett has built great wealth for himself and his investors with a buy & hold philosophy, and traders would be hard-pressed to keep up.
Security:
BRK
Position:
Sell
Berkshire Hathaway and its chairman, Warren Buffett, are stock market legends. The stock was up as much as 61,000% from 1980 to its 2007 high. In November 2011, it has been up more than 26,000% over the past 30 years (Figure 1).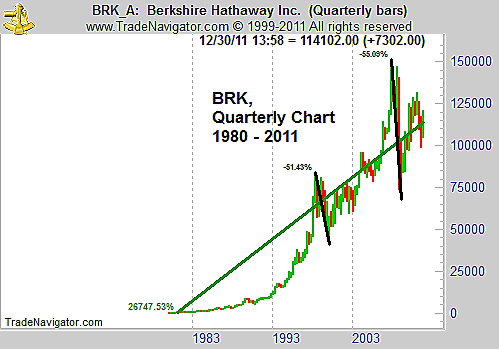 FIGURE 1: BRK, QUARTERLY. BRK has delivered big gains and twice fallen more than 50%, making it a challenge for buy & hold investors to reap the large gains.
Graphic provided by: Trade Navigator.
Of course, making the very large gains would have required being aware of Buffett's greatness in the early 1980s and holding onto the stock during several multiyear periods of underperformance. This would have been easier after Buffett gained media attention, but the biggest winners come from getting into stocks early, before the crowd recognizes the potential.


Traders would be challenged to keep up with Buffett. If you were to have traded one share over that time, $550 would have grown to about $77,000 using a simple moving average convergence/divergence (MACD) signal on a weekly chart. Buys are taken when the MACD is positive and cash is held when the indicator is negative. Monthly and daily time frames offered lowered reward to investors, although monthly signals reduced risk.


The buy & hold investor would have grown $550 into more than $113,000. Just like with other big winners of the past, trading cannot capture all of the gains.


One advantage of trading is the possibility of finding other opportunities while not invested. Using MACD, the trader would be in the market 72% of the time, and there could be other investments to use during the 28% of the time that they are not invested. Returns gained from holding bonds could offset the difference between trading and the buy & hold gains. That is especially true in a long-term scenario such as this because bonds once offered significant yields.

Berkshire Hathaway offers valuable trading systems benchmark given its leading position among buy & hold investments. Finding a strategy that beats Buffett over the long term could be the holy grail of trading.



---
Mike Carr, CMT
Mike Carr, CMT, is a member of the Market Technicians Association, and editor of the MTA's newsletter, Technically Speaking. He is also the author of "Smarter Investing in Any Economy: The Definitive Guide to Relative Strength Investing," and "Conquering the Divide: How to Use Economic Indicators to Catch Stock Market Trends."
---
Click here for more information about our publications!
PRINT THIS ARTICLE