PRINT THIS ARTICLE
CANDLESTICK CHARTING
---
Three Black Crows Making More Frequent Appearances
05/09/02 11:55:36 AM
---
by Gary Grosschadl
---
When charts start reminding you of a Hitchcock classic then it's time to be concerned with too many crows appearing on your monitor.
Security:
Nasdaq/Dow/SOX
Position:
N/A
"Three black crows" is a very bearish candlestick pattern and it refers to three consecutive black (down) candlesticks. To quote Steve Nison (Japanese Candlestick Charting Techniques): "The three black crows presage lower prices if they appear at high price levels or after a mature advance. The Japanese have an expression, 'bad news has wings'."

Ideally the three candles should close at or near their lows and should also open within the prior session's real body.



A similar but rarer pattern called "identical three crows" occurs when the open and close between the candles match up very closely. This is considered especially bearish.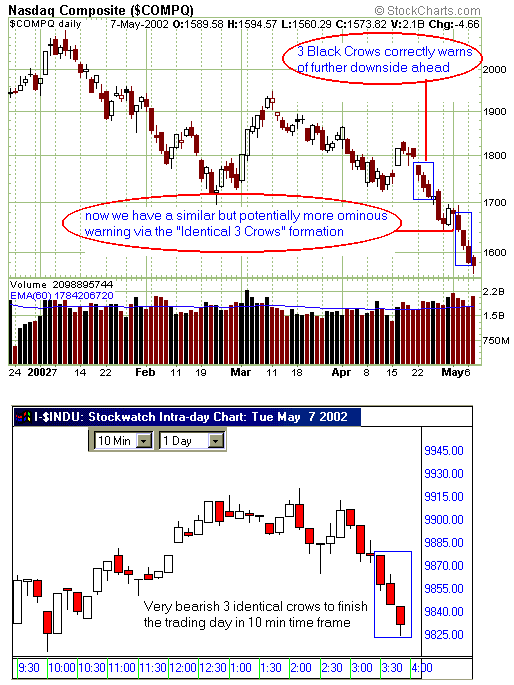 Graphic provided by: stockcharts.com.
With the overall markets being punished now, it is no surprise to see these bearish patterns appearing. Unfortunately they point to still more downside ahead.


Three examples are displayed below for the Nasdaq, Semi Conductor Index ($SOX), and a very recent Dow intraday chart. Notice how some of them are the especially bearish "identical crows" variety.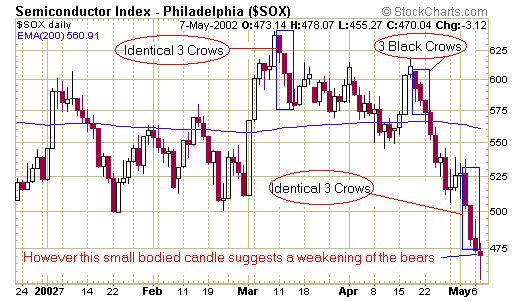 It is rare to see so many three crow formations as we have here but it is a great illustration of how candlestick readers were repeatedly warned that this index had an extremely bearish outlook. When a stock or index you are closely following displays these bearish patterns it is best to be very cautious going forward and consider taking evasive action. How much further can this index be knocked down? As long as the skies are darkened by black crows, it's watch out below!


A previous article by Sharon Yamanaka ("Working Money," 3/26/01) "Candlestick Close-up: Three White Soldiers" also covers three black crows and is a good read.


---
Gary Grosschadl
Independent Canadian equities trader and technical analyst based in Peterborough
Ontario, Canada.
---
Click here for more information about our publications!
Comments
Date:
 05/09/02
Rank:
 5
Comment:
Date:
 05/09/02
Rank:
 3
Comment:
Date:
 05/10/02
Rank:
 5
Comment:
Date:
 05/14/02
Rank:
 5
Comment:
Date:
 05/14/02
Rank:
 4
Comment:
PRINT THIS ARTICLE