PRINT THIS ARTICLE
TRADING SYSTEMS
---
Time To Sell Bank of America?
11/10/11 08:42:03 AM
---
by Donald W. Pendergast, Jr.
---
A new sell signal has fired in Bank of America stock at a time when a bullish long-term money flow divergence has developed. So what's likely to happen next?
Security:
BAC
Position:
N/A
The last five years have not been very happy ones for long-term holders of Bank of America (BAC) stock, as its horrendous decline from $55.08 to $5.13 (November 2006 to October 2011) can easily attest. Here's a basic look at some of the key technicals on BAC's daily chart (Figure 1).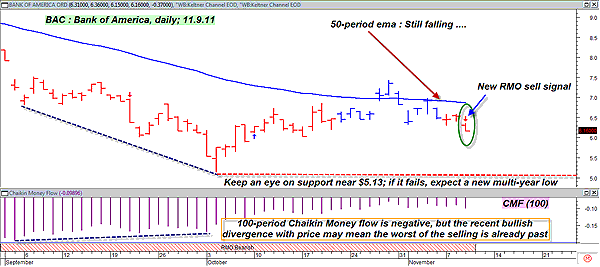 FIGURE 1: BAC, DAILY. While at first glance the technicals look bearish, the recent price/money flow divergence may warrant a second look, especially for those considering shorting BAC on this new signal.
Graphic provided by: MetaStock.
Graphic provided by: RMO indicators and tools from MetaStock 11.
Yes, the long-term trend is still down, long-term money flow is weak and a fresh Rahul Mohindar (RMO) swing sell signal has printed on BAC's daily chart, and there are plenty of good reasons (both on a fundamental and technical basis) to expect the stock to continue its slide down toward $5.00 -- or even lower.

However, we all realize by now that pure deductive logic is inadequate to accurately predict the next move in a given stock with any degree of precision and that sometimes a beaten-down stock will suddenly rise sharply without any warning at all.

If you look on the left side of the chart, you'll see that a very significant bullish price/money flow divergence (using the 100-period Chaikin money flow [CMF][100]) printed from early August to early October 2011 and that the October 4, 2011, reversal higher was confirmation that the divergence had finally begun to take hold, driving prices higher.

BAC didn't gain all that much during October's broad market rally, but when a stock finally reverses higher after such a pronounced money flow divergence, it still makes sense to anticipate a move higher much greater than ordinary technicals might suggest.


Currently, the appearance of the RMO swing sell signal is looking as if it wants to rain on the bullish parade, and since money flow is still below its zero line, we need to at least prepare for the possibility of even lower prices. The real test here is if major support at $5.13 holds. Price action at this area is going to finally settle the question as to the next meaningful move in this giant-cap financial issue. I do not short stocks anymore, and from what I've seen in the world of real trading, most traders and investors are better off focusing on the long side of the market instead of trying to be a short-selling super-hero who regularly gets his head handed to him by the markets.

If you really must take a shot on the short side, consider purchasing a put option (being sure to limit your account risk to maybe 1% maximum), one that has a definite stop-loss price as well as a nonnegotiable profit target somewhere around $5.20. No sense holding an otherwise profitable long put so long that you not only give back all of your open profits, but you also get hit for a nasty loss because you overstayed your welcome.

Always think ahead and plot out various market scenarios and have a game plan for whatever Mr. Market might throw your way. It ain't always kisses.


---
Donald W. Pendergast, Jr.
Donald W. Pendergast is a financial markets consultant who offers specialized services to stock brokers and high net worth individuals who seek a better bottom line for their portfolios.
Title:
Writer, market consultant
Company:
Linear Trading Systems LLC
Jacksonville, FL 32217
Phone # for sales:
904-239-9564
E-mail address:
lineartradingsys@gmail.com

Traders' Resource Links

Linear Trading Systems LLC has not added any product or service information to TRADERS' RESOURCE.
---
Click here for more information about our publications!
PRINT THIS ARTICLE