PRINT THIS ARTICLE
TRADING SYSTEMS
---
Polypore International Bullish Divergence Looks Promising
11/04/11 01:43:38 PM
---
by Donald W. Pendergast, Jr.
---
When long-term money flows remain strong despite a healthy pullback, the odds for a move back higher improve.
Security:
PPO
Position:
Buy
Polypore International (PPO) had quite a nasty summer vacation, what with the market handing it a $29 per share haircut between July 7 and October 26, 2011. At the moment, however, the selling pressure appears to have abated and the potential for a decisive breakout of the current funk has also begun to make itself known. Here's a closer look at PPO's daily chart (Figure 1).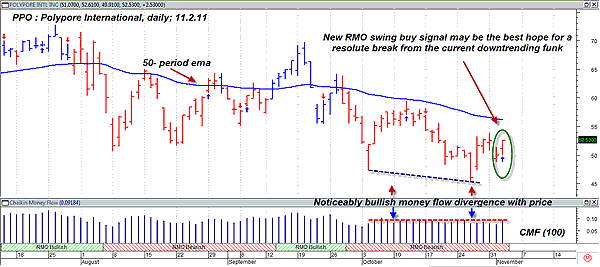 FIGURE 1: PPO, DAILY. When long-term money flow fails to break down on a selloff, the odds of a rally in a given stock increase substantially.
Graphic provided by: MetaStock.
Graphic provided by: RMO indicators and tools from MetaStock 11.
You don't see this kind of chart pattern every day -- a bullish money flow/price divergence that happens when the money flow histogram is already way above its zero line, but here it is in living color. This is the 100-period Chaikin money flow (CMF)(100) indicator, and it's a terrific tool for confirming the long-term health (or lack of) of any given market trend. Note just how flat and steady the histogram has remained during the prolonged period of bearish and/or choppy market action in the stock and how the stock has now apparently decided to take a hint and start to rise again. The takeaway here is that big institutions like mutual funds have been keeping their positions and/or slowly building them during the slump in anticipation of higher prices down the road.


If the high of $53.89 (Monday, October 31) is soon taken out, then you can expect to see a quick surge in PPO's price, perhaps up toward the 50-period EMA (currently at $56.15). As always, running a two- to three-bar trailing stop of the daily lows is one of the better ways to manage this (or any other swing trade) position until the final stopout. And remember, don't discount the underlying strength of October's run higher in the broad market indexes; a lot of people are hoping for a year-end rally with real staying power, and if we see that rally resume this week, shares of PPO should also benefit nicely.


---
Donald W. Pendergast, Jr.
Donald W. Pendergast is a financial markets consultant who offers specialized services to stock brokers and high net worth individuals who seek a better bottom line for their portfolios.
Title:
Writer, market consultant
Company:
Linear Trading Systems LLC
Jacksonville, FL 32217
Phone # for sales:
904-239-9564
E-mail address:
lineartradingsys@gmail.com

Traders' Resource Links

Linear Trading Systems LLC has not added any product or service information to TRADERS' RESOURCE.
---
Click here for more information about our publications!
PRINT THIS ARTICLE