PRINT THIS ARTICLE
ACCUM./DIST. CHAIKIN
---
BSX Long-Term Money Flow Divergence Plays Out
11/03/11 08:31:20 AM
---
by Donald W. Pendergast, Jr.
---
Divergence setups may take a long time to play out, but the better-quality ones might just be worth the wait.
Security:
BSX
Position:
Buy
Whether the past two trading sessions are indicative of a meaningful pullback instead of a test of the gap created by last Thursday's massive jump in the Russell 2000 index remains to be seen. One thing is for certain, however, and that's the fact that Boston Scientific shares (BSX) are pursuing an upward trajectory regardless of the recent market hiccup. Here's a closer look now (Figure 1).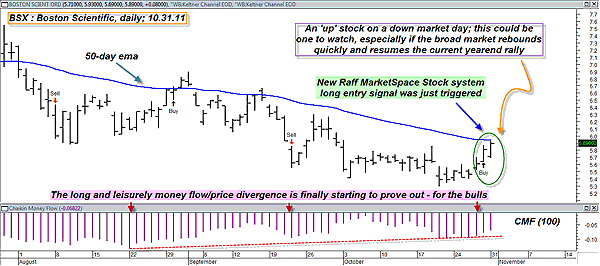 FIGURE 1: BSX, DAILY. Divergence situations can take lots of time, but if you wait and pick your entry spot wisely, substantial profits can sometimes be earned as a reversal begins to pick up steam.
Graphic provided by: MetaStock.
Graphic provided by: Raff MarketSpace stock system from MetaStock 11.
Boston Scientific shares had been on a long and drawn-out downtrend (May 10 through October 20, 2011), only deciding to join in the recent market rally more than two weeks late. Clearly a stock that chooses its own pathway without asking for permission from the broad market, BSX has done a good job coming out of its October 20th hole. It just took out the swing high of October 19, fired a new Raff MarketSpace stock system buy signal on Monday, triggered a buy for the same signal on Wednesday, November 2, and is also being blessed by the powerful long-term bullish money flow/price divergence pattern that is even now playing out. The stock is also right on track to meet up with its 50-day exponential moving average (EMA), and a daily close above it (near $5.94 as of this writing) would be yet another bullish piece of evidence for aggressive traders to consider.


Traders and investors might look at playing BSX here in two different ways:

1. Traders might be best off by going long on a minor intraday pullback during Tuesday's session and then running a two- to three-bar trailing stop of the daily lows until the final stopout.

2. Conservative traders/investors could either do a covered-call trade or maybe even run a larger trailing stop in case the emerging move really turns into something substantial. Be aware that the covered-call rates of return aren't too attractive right now, so going the straight stock route is probably a better and wiser choice until option premiums fatten up somewhat.


Tuesday should be an important make-or-break kind of day in the broad markets, mostly because of the open gap on the Russell 2000 indexes daily chart. If we see a quick shakeout and run down into the gap followed by a sharp intraday reversal higher, that will be one of the all-clear signs that the broad market will be looking for. If you're already long the market that will surely be good news, and if you are planning to be so, such a bullish reversal should help make your decision to buy that much easier.


---
Donald W. Pendergast, Jr.
Donald W. Pendergast is a financial markets consultant who offers specialized services to stock brokers and high net worth individuals who seek a better bottom line for their portfolios.
Title:
Writer, market consultant
Company:
Linear Trading Systems LLC
Jacksonville, FL 32217
Phone # for sales:
904-239-9564
E-mail address:
lineartradingsys@gmail.com

Traders' Resource Links

Linear Trading Systems LLC has not added any product or service information to TRADERS' RESOURCE.
---
Click here for more information about our publications!
PRINT THIS ARTICLE