PRINT THIS ARTICLE
TRADING SYSTEMS
---
NRG Fueled Up For A Run Higher?
10/26/11 12:42:37 PM
---
by Donald W. Pendergast, Jr.
---
Shares of NRG Energy, Inc., appear to have been given a go-ahead long entry setup on its daily time frame.
Security:
NRG
Position:
Buy
I don't know about you, but to my eyes the recent rebound in the broad market certainly appears to be the start of what may turn into a solid year-end rally. Traders often hear stories about how awful October is for the stock market (in reality, long-term market statistics prove that September can be far more volatile and destructive), but so far, the first three weeks of October have been smooth sailing -- toward higher valuation -- for most sectors in the market. Here's a closer look at the attractive long buy setup in NRG Energy (NRG) shares. See Figure 1.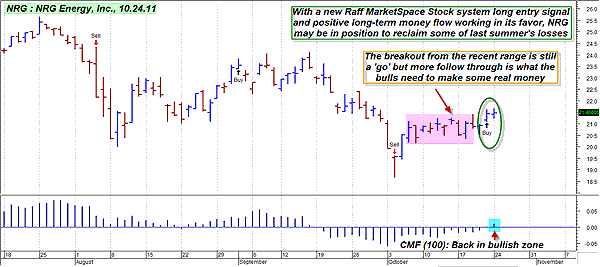 FIGURE 1: NRG, DAILY. To most seasoned traders, this long entry setup might be considered to be textbook quality. Yet even the best-formed setups can and do fail, which is why smart, serious traders always limit their risk by way of wise trade sizing.
Graphic provided by: MetaStock.
Graphic provided by: Raff MarketSpace Stock system from MetaStock 11.
One of the all-time classic stock market patterns looks something like this:

1. The broad markets make an important swing low followed by a strong, wide-range reversal bar on the daily time frame.
2. The market rallies strongly for a couple of weeks of breathtaking post-crash gains before pausing in a small zone of sideways congestion lasting one to two weeks at most.
3. At point 3, smart traders who are watching the range (in the .SPX, .NDX, and .RUT) for a potential breakout are already keeping tabs on their watchlist of quality large- and mid-cap stocks, ready to pounce as soon as they get long entry signals from their proven trading systems.

We've already come to point 3; all three of the major stock indexes have busted out to the upside in a big way, leaving little doubt as to their intention to attempt a sizable rally through year-end. NRG has certainly come to the table with a very attractive buy setup on its daily time frame, courtesy of the Raff Marketspace stock system and positive long-term money flow (based on the 100-day Chaikin money flow histogram (CMF)(100)).

Looking at the chart, we find that NRG has also printed its own version of the classic reversal/pause/continuation pattern that I touched on earlier. Note the powerful reversal bar (October 4, 2011) and the strong rally up from the low followed by a brief zone of range-bound price action (pink shaded area). With the new Raff buy signal signaling a de facto break up out of the range, all that is needed now is for Monday's high of $21.67 to be breached on strong volume. This stock should be in prime position to make significant headway higher.



The Raff MarketSpace stock system is one of the best MetaStock expert advisors, but it's still up to the trader to decide on an intelligent exit strategy for the positions you choose to enter into the market with.

One of the simplest (and surprisingly effective) exit strategies is to go with a two- to three-bar trailing stop of the daily lows (for daily based long entries, and vice versa for short trades) as both an initial stop and as a trailing stop. It's a stress-free, objective trade management method that usually manages to cut losses sooner rather than later, while still allowing powerful swing moves to cover serious ground before a final stopout.

If you use that on this NRG setup, along with modest position sizing (say, 1-2% max account risk per trade), you should be in good shape to weather whatever the market decides to send your way. Try it out, see how it goes, and you may become a believer in the value of such a stress-free manner of trading.


---
Donald W. Pendergast, Jr.
Donald W. Pendergast is a financial markets consultant who offers specialized services to stock brokers and high net worth individuals who seek a better bottom line for their portfolios.
Title:
Writer, market consultant
Company:
Linear Trading Systems LLC
Jacksonville, FL 32217
Phone # for sales:
904-239-9564
E-mail address:
lineartradingsys@gmail.com

Traders' Resource Links

Linear Trading Systems LLC has not added any product or service information to TRADERS' RESOURCE.
---
Click here for more information about our publications!
PRINT THIS ARTICLE