At the close of trading on Friday, October 21, 2011, the Rahul Mohindar oscillator (RMO) trading system (standard in MetaStock 10 and 11) issued a number of swing buy signals. Eleven of those large-cap issues also had a 13-week rate of change (ROC) ranking that was superior to the .SPX, and right near the top of that select list (Figure 1) were shares of Limited Brands, Inc. (LTD). Here's a closer look at LTD's daily chart (Figure 2).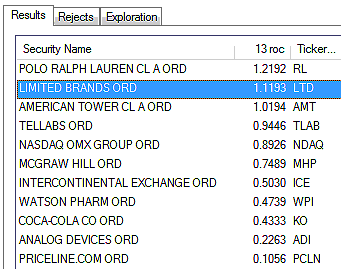 FIGURE 1: OUTPERFORMERS. Each of these 11 stocks has been outperforming the .SPX over the past 13 weeks; note also the diversity of the industry groups represented here.
Graphic provided by: MetaStock.
Graphic provided by: MetaStock Explorer.
There isn't a lot not to like on LTD's daily graph. We see a very solid uptrend in motion (since mid-August 2011), one that also features a strong medium-term money flow base (the 34-period Chaikin money flow histogram at the bottom of the chart). In addition, we also note that the stock has just fired a fresh RMO swing buy signal at the same time that it is attempting to break higher from a minor resistance/consolidation zone near $42.80.

All in all, it's a very appealing long trade setup. One of the greatest things about using a proven trading system is that when you use it to scan hundreds of stocks for buy signals, you have two powerful advantages already working for you, apart from the trade signals themselves:

First, you can see just how many stocks are participating in the broad market moves (up or down). For example, on days where you see large numbers of RMO buy (sell) signals, that's a sign that the momentum in the market is shifting toward the bullish (bearish) camp. And second, you are then able to identify if the buy/sell signals are emanating from most market sectors/groups.

In today's example, we find that it is indeed a broad-based collection of RMO swing buy signals, with an incredibly diverse group of stocks making the cut -- names like Coca-Cola (KO), Intercontinental Exchange (ICE), Watson Pharmaceuticals (WPI), Priceline.com (PCLN), and Analog Devices (ADI) all making guest appearances. Interestingly, the two strongest stocks (in terms of 13-week relative strength vs. the .SPX) each hail from different parts of the apparel industry group, perhaps hinting that this is a group to be especially focused on if the market rally starts to kick in.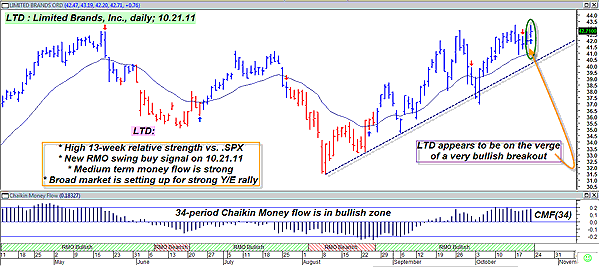 FIGURE 2: LTD, DAILY. High relative strength, strong money flow, a steady uptrend, and a new RMO swing buy signal may all be helping pave the way to higher prices in shares of LTD.
Graphic provided by: MetaStock.
Graphic provided by: RMO system indicators from MetaStock 11.
For LTD, a buy-stop entry just above Friday's high of $43.19 gets you in on the breakout (if it happens), and then you could consider running a two- to three-bar trailing stop of the daily lows to help manage the trade until the final stopout. Really confident traders could run a wider volatility-based stop, but how many of them are left after all of the recent market carnage? Might be better to run tighter stops and just take it day by day instead of trying to go for a home run move in LTD now.