PRINT THIS ARTICLE
TRADING SYSTEMS
---
Is PEG A Rebel, But With A Cause?
10/19/11 08:31:09 AM
---
by Donald W. Pendergast, Jr.
---
After two weeks of solid gains, the broad markets pulled back a bit, yet some stocks still decided to go up.
Security:
PEG
Position:
N/A
Shares of Public Service Enterprise Group, Inc. (PEG), are looking very bullish here, what with a fresh technical buy signal and strong long-term money flows underpinning the recent upswing in this tradable. Here's a closer look on a stock that's deciding to go its own way (see Figure 1).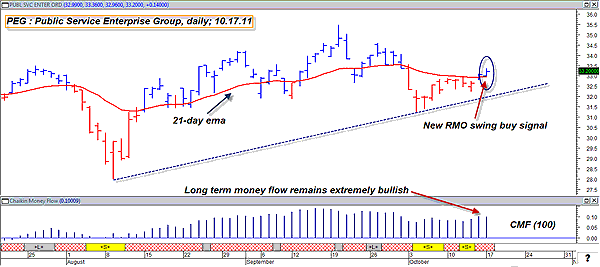 FIGURE 1: PEG, DAILY. Any stock that can so decisively buck a market-wide reversal day (October 17, 2011) is surely worth a closer look by traders and investors alike.
Graphic provided by: MetaStock.
Utility stocks aren't the most exciting things in the stock market, yet they tend to be a bit more stable during times of market turmoil even as they pay a reasonable dividend. The dividend payment certainly won't offer much protection against a severe market shock, but long-term investors tend to see them as pools of safety that are essentially shielded from most market tsunamis. Currently, PEG shares are looking very steady and strong despite the sudden broad market reversal on Monday, October 17, 2011. The 100-day Chaikin money flow (CMF)(100) histogram (bottom of the chart) is still in an exceptionally strong position, and with the recent daily close above the 21-day exponential moving average (EMA) occurring in close proximity to the EMA cross, PEG will most likely be going on the watchlists of serious traders and investors.


Probably the most conservative way to play such a stock like PEG is to simply run it as a near-term covered-call trade. Just make sure the call option sold has no more than two months of time value remaining and the bid-ask spread of the call is close (no more than 0.05 difference), then consider managing the entire position with the 21-day EMA shown on the screen. Of course, you could always run it as a straight stock position, too, using a simple two- to three-bar trailing stop of the daily lows as your official "get-out" point. Either way, this is one nice-looking long trade setup in a market that may be in short-term pullback mode.


---
Donald W. Pendergast, Jr.
Donald W. Pendergast is a financial markets consultant who offers specialized services to stock brokers and high net worth individuals who seek a better bottom line for their portfolios.
Title:
Writer, market consultant
Company:
Linear Trading Systems LLC
Jacksonville, FL 32217
Phone # for sales:
904-239-9564
E-mail address:
lineartradingsys@gmail.com

Traders' Resource Links

Linear Trading Systems LLC has not added any product or service information to TRADERS' RESOURCE.
---
Click here for more information about our publications!
PRINT THIS ARTICLE