PRINT THIS ARTICLE
ZIGZAG
---
Value Line Index Bullish
10/11/11 08:46:29 AM
---
by Mike Carr, CMT
---
Martin Zweig wrote about the importance of the Value Line Index in the 1980s. It remains a useful indicator.
Security:
XVG
Position:
Buy
Analyst Martin Zweig's 1986 book, "Winning On Wall Street," detailed the 4% trading system. The rules were simply to buy when the Value Line Index is 4% above a low and sell when it declines 4% from a high. This was most likely adapted from the filtered waves that technician Arthur Merrill described about 10 years earlier in "Filtered Waves, Basic Theory: A Tool For Stock Market Analysis."



In an update to his book, Zweig showed that from 1966 through 1993, the 4% long/short strategy delivered a 12.6% annualized gain, compared to a 2.7% gain for the index. After the reversal of the past week, the Value Line Index is on a buy signal (Figure 1).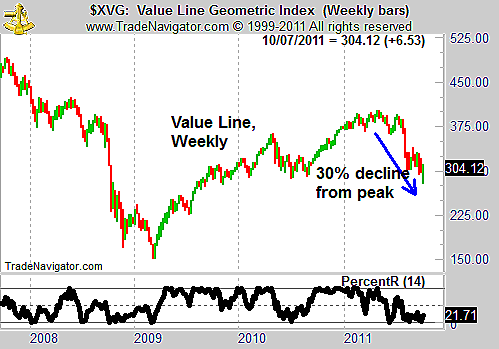 FIGURE 1: THE VALUE LINE, WEEKLY. The Value Line Index offers reliable stock market signals.
Graphic provided by: Trade Navigator.
This index measures the average daily changes in the stocks included in the Value Line investment universe. It is a geometric mean of the price activity, which has the advantage of eliminating many factors like market cap that are usually driving index changes in part.


According to the Value Line Index, there is no doubt that stocks suffered a bear market, falling 30% from their peaks earlier this year. Figure 1 also shows Williams' PercentR, a useful overbought/oversold tool. It just crossed above 20 after reaching oversold levels, signaling a buy.


Value Line is one of the broadest measures of the stock market. It is now on a buy, at a seasonally favorable time of year.


---
Mike Carr, CMT
Mike Carr, CMT, is a member of the Market Technicians Association, and editor of the MTA's newsletter, Technically Speaking. He is also the author of "Smarter Investing in Any Economy: The Definitive Guide to Relative Strength Investing," and "Conquering the Divide: How to Use Economic Indicators to Catch Stock Market Trends."
---
Click here for more information about our publications!
Comments
PRINT THIS ARTICLE