PRINT THIS ARTICLE
TRADING SYSTEMS
---
Will This Short Setup Trigger A Sell For Computer Associates?
09/28/11 09:32:05 AM
---
by Donald W. Pendergast, Jr.
---
Despite the minor broad market bounce now under way, there are still stocks flashing sell signals.
Security:
CA
Position:
N/A
Even though the broad market is trudging back higher, it might still pay to be aware of stocks that are lagging behind and/or actually flashing sell signals, some of which still need to be triggered before confirming an actual short entry. Here's a brief look at Computer Associates (CA) and how its technical setup appears on its daily chart (Figure 1).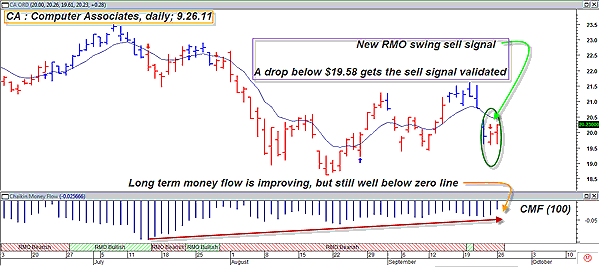 FIGURE 1: CA, DAILY. Although the broad market has experienced a minor lift over the past couple of sessions, it might still pay to be aware of stocks that are still lagging behind and also are flashing potential sell short signals.
Graphic provided by: MetaStock.
Graphic provided by: RMO indicators and tools from MetaStock 11.
Computer Associates' daily chart isn't overly bearish, but it's no big revelation to experienced traders that a market can transition from mildly bearish to wildly bearish, sometimes only in a matter of a few trading sessions. CA seems to have put in a solid bottom after the recent summer selloff, but upward progress has still been sluggish at best. Long-term money flow (Chaikin money flow [CMF][100]) has improved but is still well below its zero line and doesn't inspire confidence in a long entry anytime soon. But the real kicker here is the new Rahul Mohindar oscillator (RMO) swing sell signal, one that will be considered a "go-short" signal upon a break of Friday, September 23, 2011's low of $19.58. Traders with an interest in getting a good shot at a short CA opportunity need to watch that price level over the next few sessions, being ready to jump on it if the opportunity manifests in a timely manner. With the global commodity markets now already in one of the largest corrective moves since the summer of 2008, who's to say that the broad US markets won't also take the hint and start shedding digits at a rapid pace, too?


One final word of warning here -- when trading RMO swing signals, always wait for the high (low) of the setup trigger bar to be exceeded before actually initiating a position. In this way, you'll always be entering in the direction of powerful momentum (at least for the time being, depending on how far the move is destined to run, if at all), and that should help spare you from many unnecessary losses that can be caused by entering before the trigger bar has been exceeded. Just a little something to think about before you place your next trade with this particular system.


---
Donald W. Pendergast, Jr.
Donald W. Pendergast is a financial markets consultant who offers specialized services to stock brokers and high net worth individuals who seek a better bottom line for their portfolios.
Title:
Writer, market consultant
Company:
Linear Trading Systems LLC
Jacksonville, FL 32217
Phone # for sales:
904-239-9564
E-mail address:
lineartradingsys@gmail.com

Traders' Resource Links

Linear Trading Systems LLC has not added any product or service information to TRADERS' RESOURCE.
---
Click here for more information about our publications!
PRINT THIS ARTICLE