Ask anyone who has poor vision and then put on their first pair of eyeglasses, and they are likely to tell you that the difference is extraordinary. You are seeing with what seems like a fresh pair of eyes, and the world seems sharper and clearer. Given the current context of the present stock market, it might be beneficial for you to undergo a similar experience by looking at the market with new eyes in the form of new investment approach.

In the eyes of the trader, the market is at a critical point where a serious move to the downside may occur, and if you stay alert, it is a simple matter to ride the downtrend as soon as the market breaks.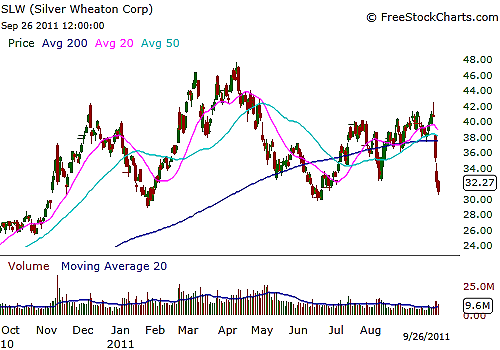 FIGURE 1: SILVER WHEATON. SLW's price action is breaking down on the daily annual chart, but its fundamentals should cause you to take a closer look.
Graphic provided by: www.freestockcharts.com.
The problem is that the market's price action is looking uninspiring. Such price action does not lend itself to be acted on, resulting in entry points becoming more difficult to spot and making it more difficult to calculate risks. And in such situations, it's usually best to do nothing as you can rarely get into any kind of trouble until the trend emerges and becomes recognizable.

Look at the current state of the market through the eyes of a value investor, and you could find yourself becoming excited at the possibilities for bargain-priced stocks. You wouldn't have to look much further than the mining industry, which is currently the highest-performing segment of the stock market, according to the most recent industry rankings of "Investor's Business Daily."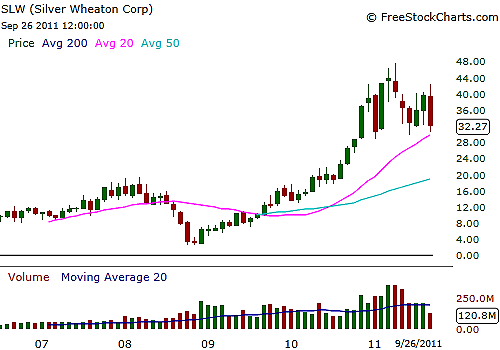 FIGURE 2: SILVER WHEATON. While SLW's price is breaking down on its daily chart, its weekly chart reveals a stock whose bullish trend is firmly in place and tells us to stay alert for a potential entry point in a stock ready to take off in a hot sector.
Graphic provided by: www.freestockcharts.com.
One of the stocks listed is Silver Wheaton (SLW), a silver royalty company based out of Canada that has 14 long-term silver purchase agreements and two long-term precious metal purchase agreements whereby it acquires silver and gold production from the counterparties located in Mexico, the US, Canada, Greece, Sweden, Peru, Chile, Argentina, and Portugal.

As a value play, this stock pick has a number of compelling qualities, particularly its revenue of almost $600 million coupled with an 83.07% profit margin and quarterly year-over-year growth of over 870%. SLW also has a strong management team that has increased the stock's book value over the last five years while producing a stellar return on equity of just over 23%.

With a secular bull market in precious metals, stocks whose business is strongly focused in mining will be the main benefactor of that trend and likely attract investors by offering a combination of attractive future prospects and share value. See Figure 1.



The only drawback to investing in SLW is that its price action -- rising and falling -- is more of a function of supply and demand by investors than fundamentals alone.

While SLW's current price may be falling, trying to invest now is like trying to catch a falling knife, where the result can be successful with the proper qualities of speed and timing but, more often than not, you miss catching the handle and end up grabbing the blade. That said, you could keep an eye on value stocks like SLW for evidence of a rising trend and using technical analysis to confirm an entry rather than buying a stock while it is still falling. See Figure 2.




For example, look for bottom formations like double bottoms or triple-bottom patterns to show support and you could find a silver lining in all the dark clouds hovering over the markets right now, where you could find yourself about to catch a big move at the beginning of a new bull run.