PRINT THIS ARTICLE
TRADING SYSTEMS
---
PSA Higher Prices In Store?
09/16/11 12:31:38 PM
---
by Donald W. Pendergast, Jr.
---
Renting storage units may not be a glamorous field of endeavor, but the people who've been long shares of Public Storage for the last few years probably don't mind at all.
Security:
PSA
Position:
Buy
Stuff. Everybody has it -- tons of it. Books, clothing, furniture, tools, keepsakes, sporting equipment, and on and on. Chances are, you or someone you know already has a storage unit somewhere, and it's probably packed to the gills with stuff that there's no room for at the house or office anymore. And when people store lots of stuff, the stock of such publicly traded companies that offer storage space tends to go higher as earnings growth accelerates. Here's a look at the potential long buy setup in Public Storage (PSA).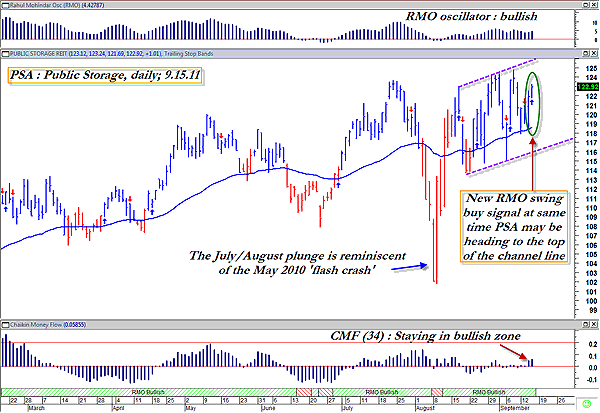 FIGURE 1: PSA, DAILY. With the upper channel line having the potential to be a price magnet, it will be interesting to see how this long swing buy setup plays out over the next couple of weeks.
Graphic provided by: MetaStock.
Graphic provided by: Rahul Mohindar (RMO) and WB ProfitTrader.
Any stock that goes from about $47 to the mid-$120 range in the course of two and a half years might be worthy of further examination each time a new buy signal appears, and that's what we're doing now with this daily chart of PSA (Figure 1). Note how quickly the stock bounced back from a round of mindless, panic-driven selling in July and August 2010, regaining virtually all of those losses within a four-week timespan. Money flow (CMF)(34) is also staying on the bullish side of the ledger most of the time since the stock bottomed out, which is a very healthy sign in a bullish issue. The stock has also flashed a fresh Rahul Mohindar oscillator (RMO) swing buy signal at the same time that upward momentum appears to be destined to drive the price of PSA toward that upper channel line that you see on the chart (purple dashed lines). Overall, it's a good-looking short-term trading setup, one made a bit more attractive by way of the stock's healthy 13-week relative strength ranking versus the .SPX.


September has a reputation for being a rough month to be in the stock market, but if you are using a sound system along with modest position sizing and are also striving to stay on the right side of the broad market, there's really no reason for September to be any more dangerous a month to trade than any other month. If you simply buy into strength (after a valid buy signal from a proven system), use an appropriate stop-loss and trailing stop combo, there is no need to be timid about trading large-cap stocks in this or any other market. Try to always keep your maximum risk to your equities trading account at 1% to 2% or even less, if at all possible -- if you plan on being a long-term, profitable survivor in the stock market.


---
Donald W. Pendergast, Jr.
Donald W. Pendergast is a financial markets consultant who offers specialized services to stock brokers and high net worth individuals who seek a better bottom line for their portfolios.
Title:
Writer, market consultant
Company:
Linear Trading Systems LLC
Jacksonville, FL 32217
Phone # for sales:
904-239-9564
E-mail address:
lineartradingsys@gmail.com

Traders' Resource Links

Linear Trading Systems LLC has not added any product or service information to TRADERS' RESOURCE.
---
Click here for more information about our publications!
PRINT THIS ARTICLE